Byrnes sees Headley as part of Padres' future
Byrnes sees Headley as part of Padres' future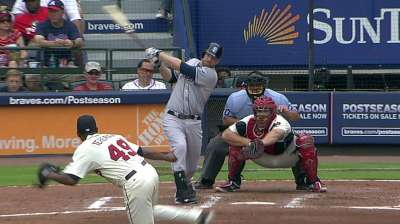 LAKE BUENA VISTA, Fla. -- The search for bullpen help was the dominant story for the Padres on Day 1 of the Winter Meetings, but it wasn't the only one.
As expected, another round of rumors began circulating about third baseman Chase Headley, with several linking the Padres and White Sox as potential trade partners. But it seems unlikely that San Diego will trade Headley, an MVP candidate in 2012, after a down year in '13. Padres general manager Josh Byrnes did his part to quell those rumors when asked about Headley's future.
"We won 76 games two years in a row. We all know the story. We've had injuries," Byrnes said. "We feel like we've kept a lot of our good players and obviously added Josh Johnson. We're trying to take that step forward in 2014, and we view Chase as part of that."
Byrnes also said his focus on the Padres' bullpen hasn't kept him from looking into ways to improve the rest of the roster.
"We've been pretty focused on the bullpen today. But ideally 12 months out of the year and certainly this week, you want to be open-minded," he said. "If there's a trade that we think ultimately improves us, now and in the future, we'll always take a look at it. But for today at least, we spent most of our energy in the bullpen."
Adam Berry is a reporter for MLB.com. Follow him on Twitter at @adamdberry. This story was not subject to the approval of Major League Baseball or its clubs.