Maybin enjoys feeling of blasting homer again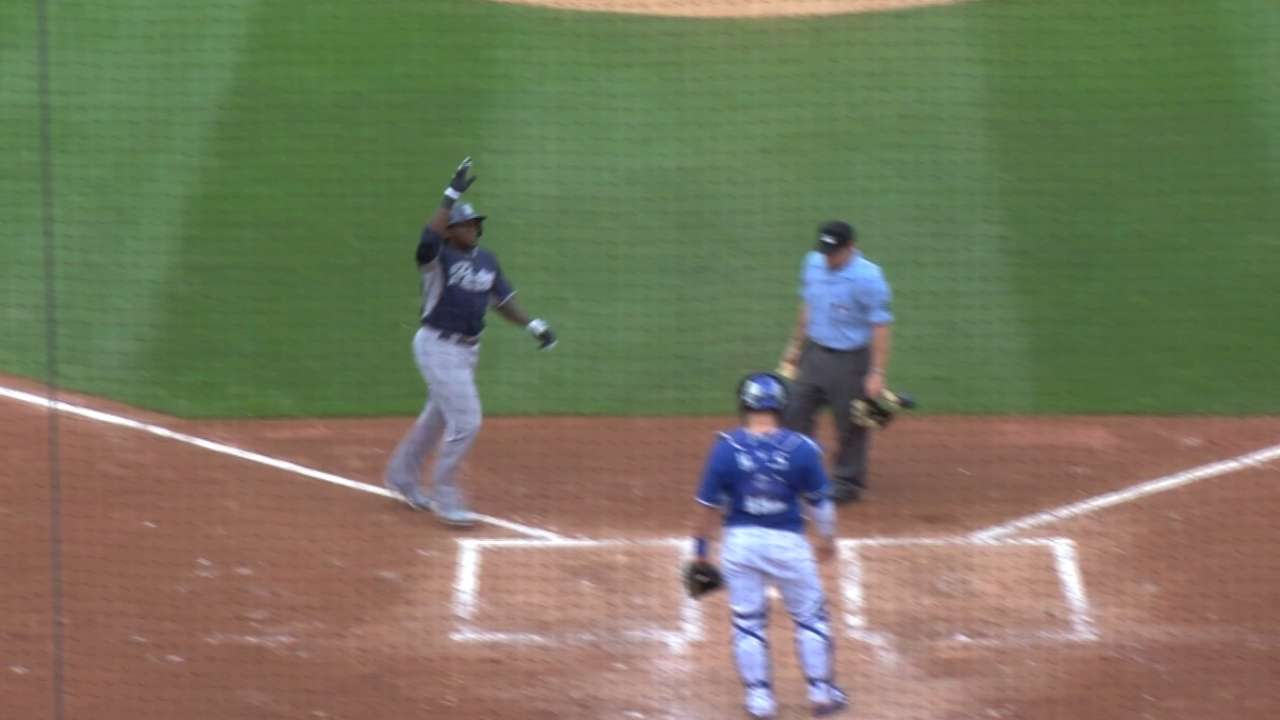 SURPRISE, Ariz. -- Before Saturday, it had been nine months since Cameron Maybin last homered in a game. But with one smooth swing of the bat, the outfielder who only played 14 games last year, due to knee and wrist injuries, changed that in a hurry.
Picking on an 85-mph splitter over the plate from the Royals' Brad Penny, Maybin launched a no-doubter well into the left-field grass area for a two-run shot Saturday in the Padres' 7-3 rain-shortened loss.
"Man, it felt good," Maybin said. "I know it's only two games in but it felt really good to kind of click one. Just to kind of get that reassurance that the body feels well. You always gain confidence when you're able to put together a good at-bat."
Upon returning to the dugout, Maybin's teammates swarmed him.
"That was cool, everybody was excited for me," Maybin said. "I think that made it a little bit more special even though it's Spring Training. It was nice to get those high-fives, slap everybody's hands. It was a long year last year for me not playing, so it's a nice feeling to be a part of a team again."
Padres starter Ian Kennedy added: "I joked and said, 'He's back.' That was a great swing, though. That was like the Cameron Maybin that I've seen hit some far balls against the D-backs, when I was with them."
Although the homer only came in a Spring Training contest, the Padres believe Maybin experiencing tangible success again will help the 26-year-old get back to his old self, following such a frustrating year in 2013.
"With Cam, he's got to get back into the flow, so when you do something positive like he did and really square up the ball, drive a deep homer, that builds a lot of confidence," Padres manager Bud Black said. "He's building that foundation right now. He's got to get back in his groove so hopefully there is more of that to come."
Tyler Emerick is an associate reporter for MLB.com. This story was not subject to the approval of Major League Baseball or its clubs.