Kennedy pleased with fastball in first outing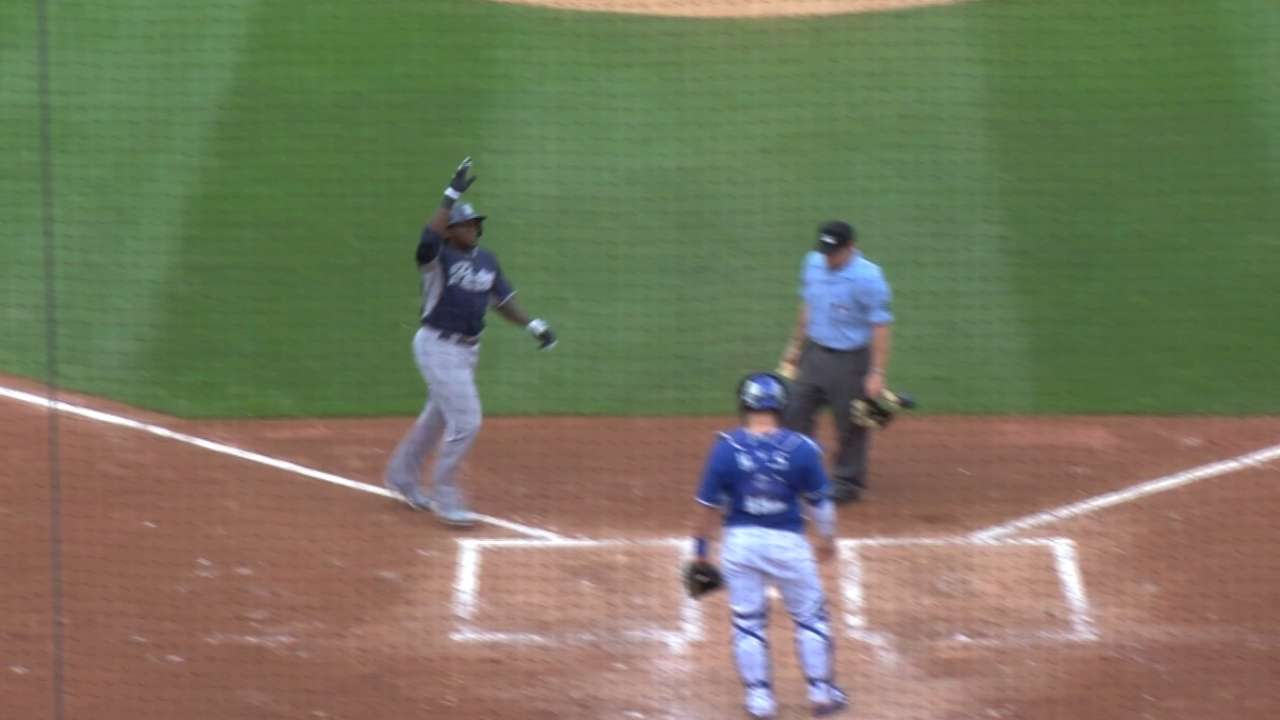 SURPRISE, Ariz. -- Ian Kennedy may have gotten a little wet Saturday, but raindrops were the only things to hit him hard in his first Cactus League outing of the spring.
Tossing two clean innings against the Royals, Kennedy allowed one hit, walked one and struck out two batters, including Billy Butler looking on a slider. He finished throwing 26 pitches, 20 for strikes.
"I felt pretty good, threw a lot of strikes; that's what you look for in Spring Training," Kennedy said. "The most important thing was getting that fastball going, especially your first time out. So that was nice."
Kennedy and the Padres got through the first inning dry, but a drizzle started up in the second frame just as the right-hander took the mound.
"I was warming up and I was like, 'We better get this thing started,'" Kennedy said. "I can turn it off when they tell me if the game is canceled or something like that, but it's hard to turn it off then turn it back on."
The rain stayed light enough for Kennedy to finish his start, but not long after that the showers picked up again and umpires called the game in the top of the eighth. Kennedy said the rain didn't affect him, though, adding that he still threw, "a couple changeups, one curveball and three sliders."
Acquired at the non-waiver Trade Deadline last season, Kennedy is expected to fit anywhere from No. 2 to No. 4 in the rotation following camp.
"Ian looked really good, mechanics solid, arm speed," Padres manager Bud Black said. "I thought he looked sharp, he threw a lot of good pitches over his two innings. Everything was crisp for a first outing."
Tyler Emerick is an associate reporter for MLB.com. This story was not subject to the approval of Major League Baseball or its clubs.