Hahn showing off hoops skills at camp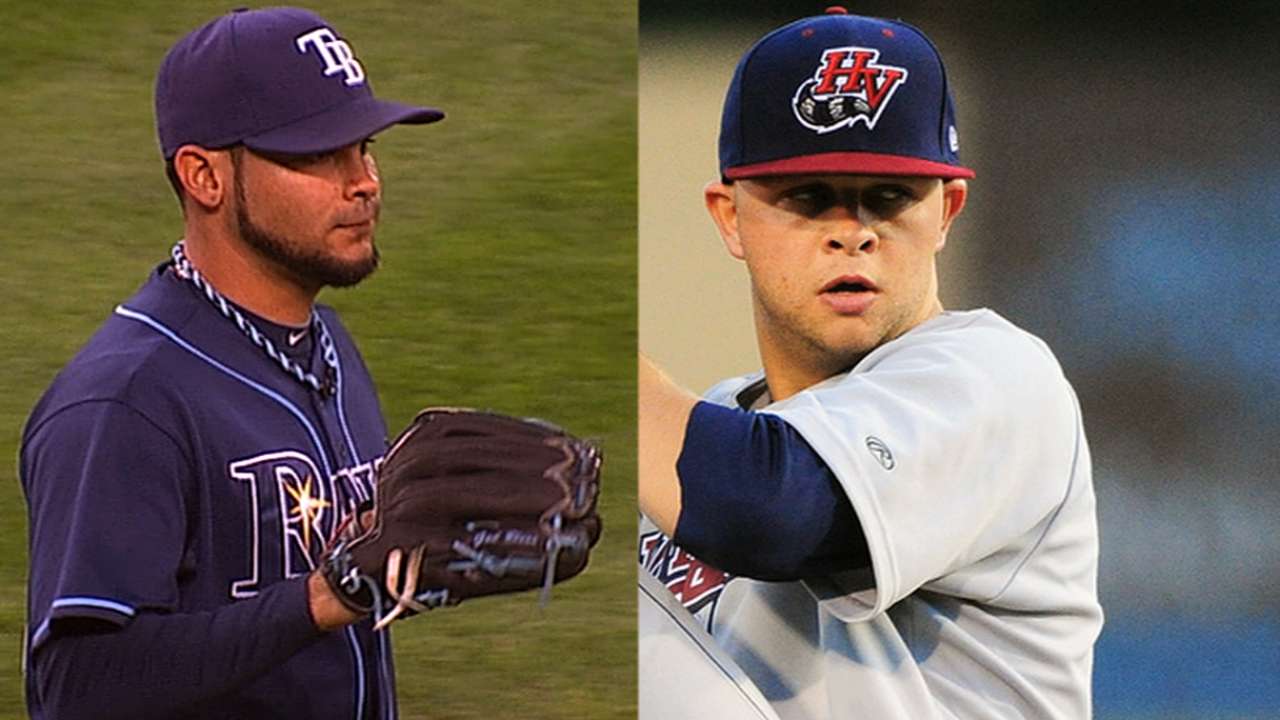 PEORIA, Ariz. -- Outside of the Padres' clubhouse at the Peoria Sports Complex sits a portable basketball hoop on a slab of concrete, roughly the size of an average driveway. The hoop was just installed this week, so the makeshift court hasn't seen too much action yet, but count newly acquired pitcher Jesse Hahn as one of the Padres capable of putting on a show with the rock.
A standout, two-sport high school athlete in Connecticut growing up, Hahn received interest from several Division I schools to play basketball in college.
"I was good in high school but I had to give it up because playing baseball seemed like a better future for me," Hahn said. "I had a couple Atlantic-10 schools send me letters, but I was pretty much committed to baseball. I had a chance to meet some of the coaches and it definitely would've been fun to play longer, but I knew baseball was where I belonged."
Hahn, whom the Padres acquired in a seven-player deal with the Rays in January, ended up spending the next three years at Virginia Tech on the diamond before Tampa Bay drafted him in the sixth round in 2010.
Still, although the 24-year-old doesn't play basketball competitively anymore, for fear of injury, he returns to Connecticut every offseason to help coach at a local junior college, Avery Point.
"To this day I go back home and work with some of their kids," he said. "I love being around that team and helping them out. As much as I can be around the game, I still am."
When he does get the chance to shoot around a bit this spring, Hahn will have some competition for bragging rights among the Padres, as outfielder Will Venable played collegiately at Princeton and infielder Jedd Gyorko was first team all-state in high school.
"I might surprise some people," Hahn said, smiling. "But I've heard there are some guys on this team who can play. We'll see."
As for the sport he now makes a living from, Hahn is scheduled to make his Cactus League debut Sunday against the Dodgers. The right-hander is expected to begin the season at Double-A San Antonio, but with a fastball that sits in the mid-90s coupled with a solid curve and an improving slider and changeup, Hahn appears poised to progress quickly through the Padres' farm system as a future middle of the rotation starter.
"We have seen a very live arm from him just in the sessions that he has thrown," Padres manager Bud Black said. "He's shown a little bit of velocity and he can spin a breaking ball. The delivery and the arm action works well, so it's so far, so good for Jesse."
Tyler Emerick is an associate reporter for MLB.com. This story was not subject to the approval of Major League Baseball or its clubs.