Wieland feeling great after first outing since '12
Young Padres right-hander coming back from Tommy John surgery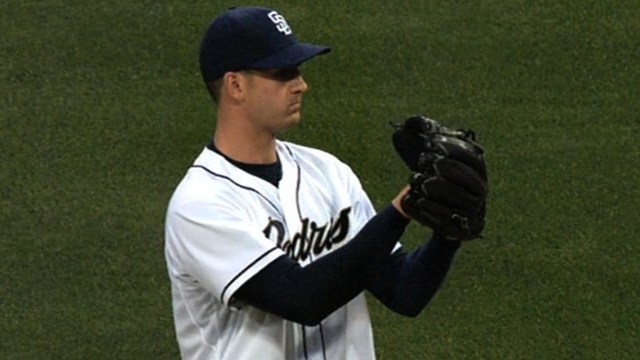 PEORIA, Ariz. -- The results weren't what he wanted, but that didn't matter. Nothing was going to rain on Joe Wieland's parade Friday, not after how long he waited to get back on the mound. Pitching for the Padres for the first time since undergoing Tommy John surgery in 2012, the right-hander threw 29 pitches against the Mariners and reported no discomfort following the outing.
"It felt amazing, my first big league game in 22 months. It was awesome," Wieland said. "Great to get the first one out of the way and even better I had no soreness or anything afterwards."
Wieland finished his day allowing four runs on four hits in two-thirds of an inning, but since the Mariners mostly did their damage off a couple of hanging breaking balls, the 24-year-old felt encouraged with his debut, especially since his fastball velocity sat comfortably in the low-to-mid 90s.
"I thought the ball came out well, I was a little disappointed with the results, but my fastball played well, which is what you want right now," Wieland said. "This next outing coming up Wednesday, though, the execution needs to be there better with the secondary stuff."
Like the rest of the pitchers in camp, Wieland is working to build up his endurance, and Friday was certainly a step in the right direction. The righty got his feet wet again in a couple of games last fall in the Arizona Fall League, but this spring is really when Wieland is hoping to put the more than a year of rehabilitation behind him.
"With him getting back to where he needs to be, the arm strength has to continue to build," Padres manager Bud Black said. "So we're going to put him through all the progressions, get his innings in, get his starts in and get him back in a competitive environment. It's great, though, that he's healthy and the ball is coming out of his hand fine."
Wieland, acquired at the Trade Deadline from the Rangers in 2011, made five starts for the Padres in 2012 before his injury, posting a 4.55 ERA and striking out 24 in 27 2/3 innings. He owns a career 3.29 ERA in parts of five Minor League seasons.
Tyler Emerick is an associate reporter for MLB.com. This story was not subject to the approval of Major League Baseball or its clubs.