No surgery for Wieland after 'clean' MRI on elbow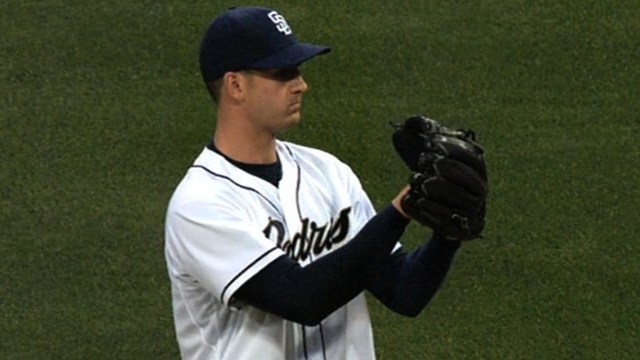 PEORIA, Ariz. -- Imagine Joe Wieland's surprise on Monday when his girlfriend informed him that he was likely headed for a second Tommy John surgery, based on reports she read online.
"I know everyone kind of jumped the gun, thinking 'Here goes Tommy John No. 2,' but there was never a point where I thought something was wrong with the ligament," Wieland said.
Wieland was in San Diego on Monday to have an MRI on his sore right elbow, though the soreness was more in the triceps area than the actual ligament that he had replaced in July 2012.
The MRI showed a clean elbow, though the Padres will shut down the right-hander for a period of seven to 10 days to rest before he resumes throwing. Wieland said the team doctor told him his MRI "looked clean," and that there was some posterior impingement. He received a cortisone shot.
"We were never going in there to get that [ligament] checked out," Wieland said. "Fortunately, through this process, I haven't had any pain or problems with the ligament. It's been the triceps tendon."
Wieland has been told by the training staff that after resting the elbow he could resume pitching as soon as Saturday.
Wieland has appeared in four games this spring, allowing nine earned runs over seven innings -- including five earned runs in 2 1/3 innings on Saturday against the Dodgers in Glendale. It was during that outing that he felt soreness in the elbow.
"The second inning was the first time that I felt it all spring," Wieland said. "The triceps muscle started to ache in the third inning. It didn't allow me to get out front. Everything was up. The longer that I held onto the ball, the more the muscle ached."
Wieland, projected to open the season in the starting rotation for Triple-A El Paso, is already looking forward to getting back on the mound.
"Hopefully this time the cortisone shot knocks it out and at this time next week we're ready to go," Wieland said.
Corey Brock is a reporter for MLB.com. Keep track of @FollowThePadres on Twitter. This story was not subject to the approval of Major League Baseball or its clubs.