Hedges heads to Minors camp after strong showing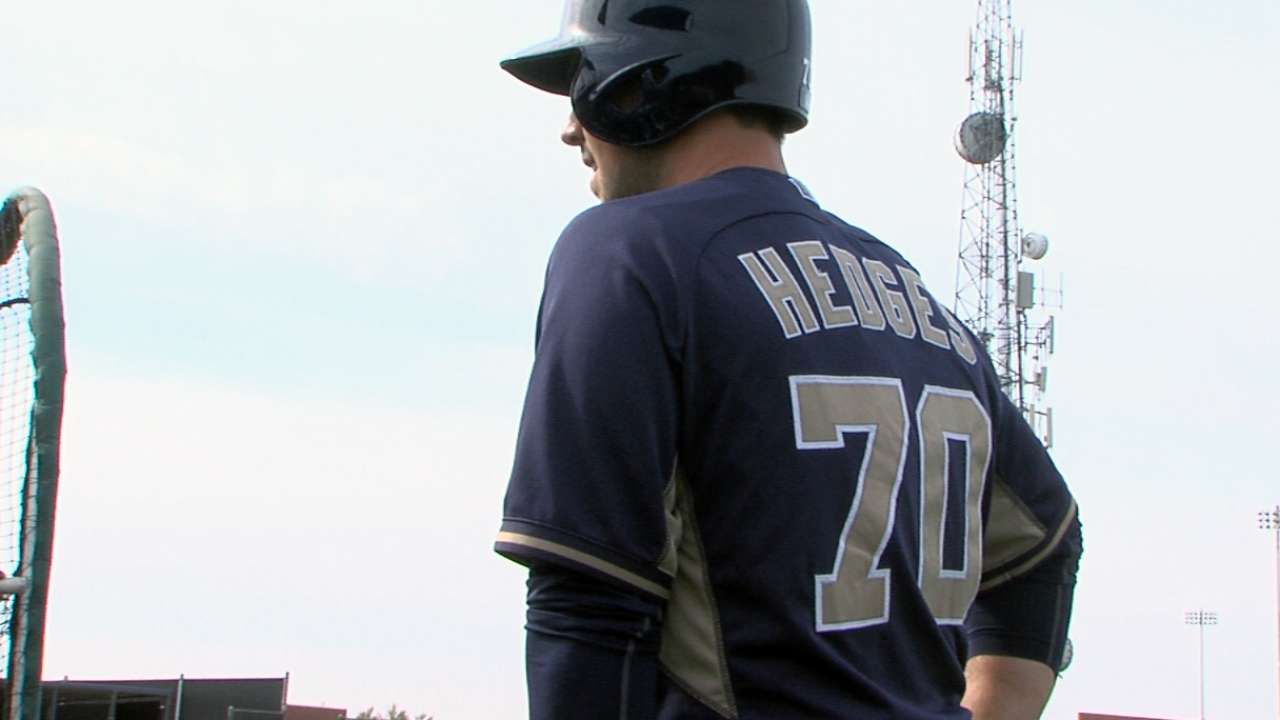 PEORIA, Ariz. -- With the Cactus League winding down and innings becoming scarcer, the Padres cut two of their prized young prospects from big league Spring Training on Sunday, optioning right-hander Jesse Hahn to Double-A San Antonio and reassigning catcher Austin Hedges, the club's top offensive prospect, to Minor League camp.
Hahn, pegged as the No. 17 prospect in the Padres' system, enthralled the entire organization in his first camp with the club after being acquired from the Rays in January as part of the Alex Torres-Logan Forsythe deal. Appearing in five Cactus League games, the right-hander tossed 8 2/3 scoreless innings, allowing just four hits and striking out three.
Not too shabby for a guy who has yet to pitch above Class A Advanced.
"He showed very well," Padres manager Bud Black said. "It was a great experience for him, but it was time for him to go to Minor League camp and get stretched out a little bit. He got up to two innings here, but his pitch count really wasn't where it needed to be for him to be ready to start a regular-season game in the Minor Leagues. He's got to get out there and pitch on the other side."
Hahn, who made 19 starts last year, will begin the year in San Antonio's rotation.
Hedges, the No. 24 prospect in all of baseball, did nothing this spring to detract from his billing, batting 5-for-19 with six RBIs while playing steady defense behind the plate. He'll likely join Hahn in San Antonio when the season begins.
"I told Austin that I thought the growth he made over the last 12 months has been great," Black said. "He grew a lot in a lot of areas, specifically on the baseball side. He cleaned some things up on the catching side, just his presence out there and his confidence talking to the pitchers. He did well."
Tyler Emerick is an associate reporter for MLB.com. This story was not subject to the approval of Major League Baseball or its clubs.