Grandal gets first big league start at first base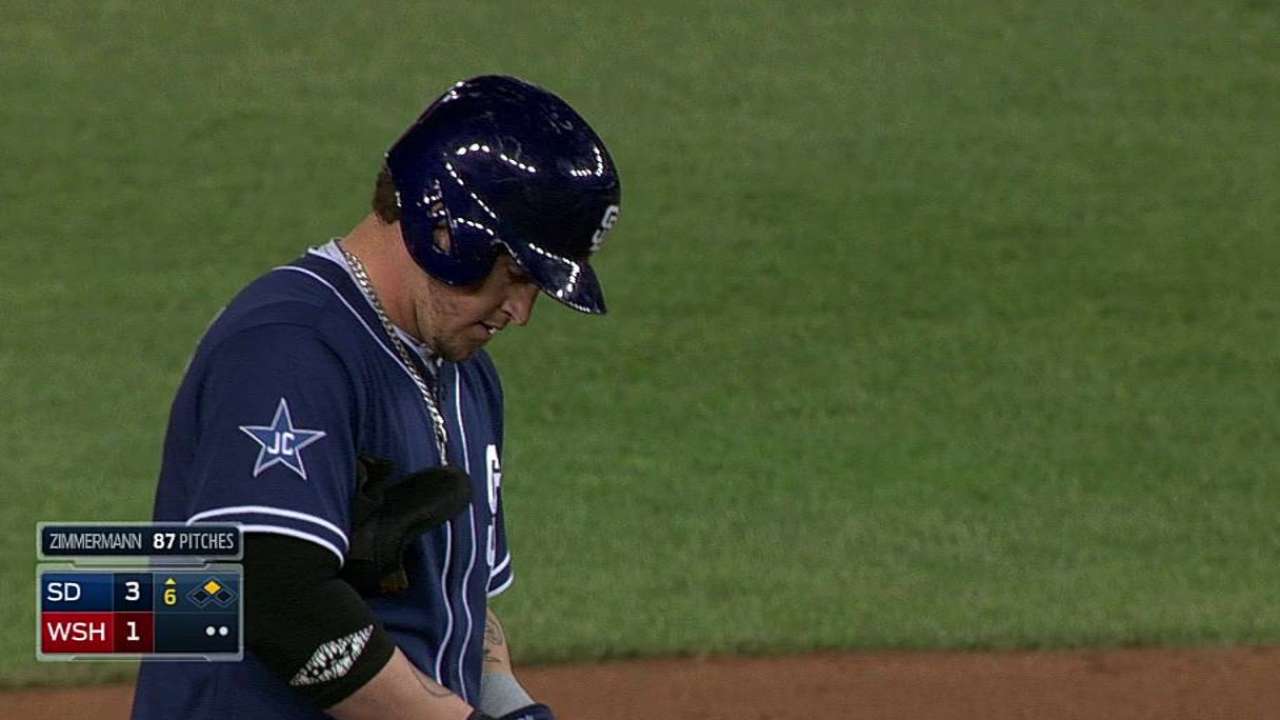 SAN FRANCISCO -- Tuesday night might have marked catcher Yasmani Grandal's first Major League start at first base, but the Padres' regular catcher is very familiar with that patch of the infield.
While many of his teammates like to shag fly balls in the outfield during batting practice, that's too boring for Grandal. For as long as he can remember, Grandal has trotted out to first base during the pregame sessions.
"I'm always catching ground balls at first, and it's not because I want to show off that I can play it," Grandal said. "It's just because I like to keep my legs loose. I don't like just standing there in the outfield. ... That's the routine I've always done."
Once he got to the clubhouse Tuesday, manager Bud Black asked Grandal if he would feel comfortable playing at first base, where he last appeared during a wild 17-inning affair on May 31 against the Blue Jays. He went through the 2013 season knowing he was something of an emergency first baseman for the Padres, so he wasn't completely caught off guard.
"I told him I'm comfortable playing there," Grandal said. "Worst thing that could happen to me is they could hit a hard ground ball to me, and if I feel like I'm going to miss it, I'm going to block it. I'm going to let it hit my chest and get the other guy out. ... It's definitely going to be fun. Something new."
Nick Hundley was behind the plate Tuesday after fellow backup Rene Rivera erupted for five RBIs in Monday's 6-4 win over the Giants. Meanwhile, first baseman Yonder Alonso was on the bench for the second straight game, as he's mired in a 4-for-40 (.100) slump since April 16.
Black didn't sound like he had many reservations about giving Grandal the start at a position he hasn't played since he was a Minor Leaguer in 2011.
"Better than 2010," Black said. "We wanted to get his bat in the lineup and Nick's bat in the lineup. ... [Alonso] will be back in there at some point. We need Yonder, no doubt about it. It's an offensive position, first base."
Alex Espinoza is a contributor to MLB.com. This story was not subject to the approval of Major League Baseball or its clubs.