Lane retires 10 straight in dazzling pitching debut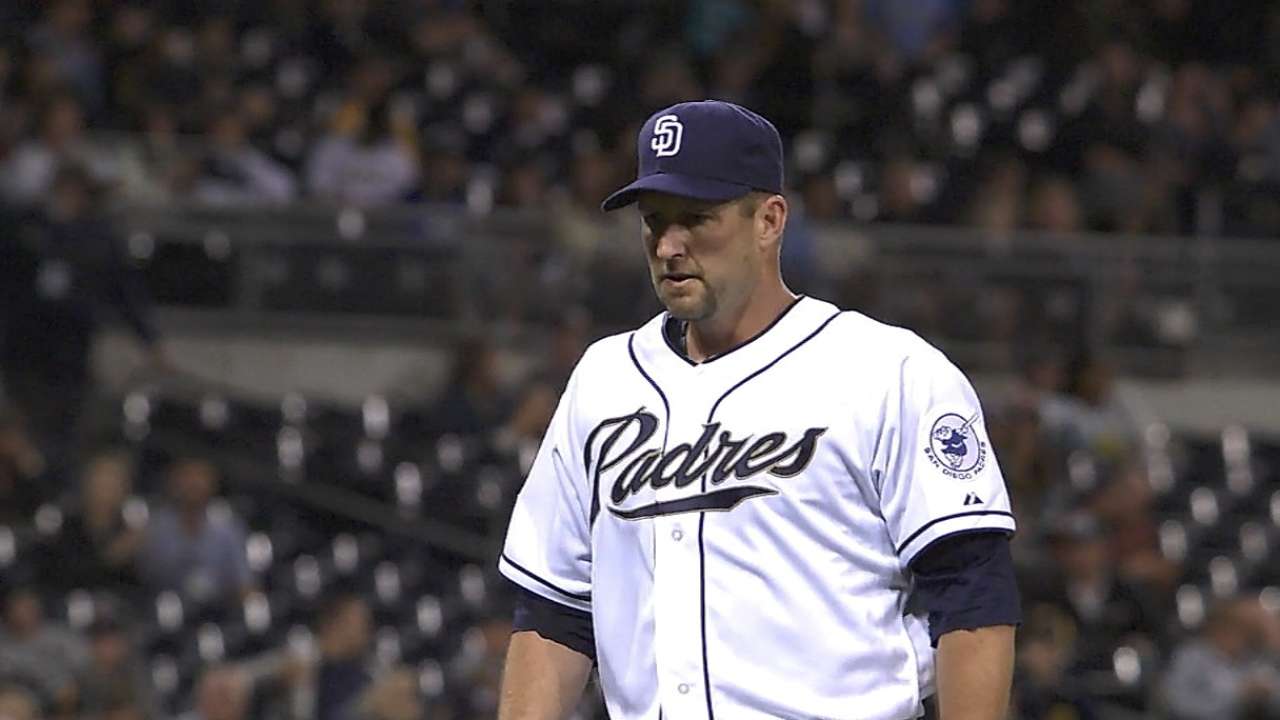 SAN DIEGO - Monday night, Jason Lane was sitting on his couch watching the Padres bullpen get hammered in a 10-3 loss to the Pittsburgh Pirates. As a pitcher for San Diego's Triple-A club, the El Paso Chihuahuas, he wondered if the depleted bullpen would be calling on reinforcements from one of their Minor League clubs.
Sure enough, less than an hour after the game finished, Lane got a call from Randy Smith, the Padres' vice president of player development.
"When you have a missed call from someone in the front office at 11:30 or midnight, you know something's up," Lane said. "It was a great call to get."
Smith informed Lane that the former Astros outfielder would be joining the Major League club - as a pitcher.
Nearly seven years after playing his last game, and almost three years after making the full-time switch from hitter to pitcher in the 2011-2012 offseason, Lane officially became part of the San Diego relief corps on Tuesday. He was immediately thrown into the fire, entering down 4-0 in the fourth inning against Pittsburgh. He went on to retire all 10 hitters he faced, striking out three.
"Jason did a great job," said Padres manager Bud Black. "He did what we needed him to do … He kept people off-balance."
Lane even showed off some nifty glovework, knocking down a Travis Snider line drive headed up the middle before collecting it and tossing to first for the out. He flied out in his only at-bat, but nothing could bring down Lane after his triumphant return, which was a long time coming. "It means a lot," Lane said.
"The more I think about it, I start getting a little emotional. There were a lot of times when it didn't look so good. I just kept grinding and for it to work out like this is pretty cool."
The Padres desperately needed fresh arms after seven pitchers combined to throw 249 pitches -- the most any team has thrown in a game this season -- against the Pirates on Monday, in the first clash of a three-game home series. Four relievers surpassed their season high in pitches, and a fifth (Donn Roach) was sent down to Triple-A the following day to make room on the roster for Lane.
"I was certainly aware of how much the 'pen had been used, especially [Monday] night," Lane said. "I was really trying to eat some of those innings up and keep us in the game."
San Diego initially signed Lane last July away from the independent Sugarland Skeeters -- the club that recently made headlines for signing former NBA star Tracy McGrady as a pitcher. Lane had initially been signed as a pitcher by Diamondbacks GM and former Padres GM Kevin Towers in 2012, but was released after compiling a 7.59 ERA in 21.1 innings.
This year, Lane cemented a spot in the rotation of the Triple-A El Paso Chihuahuas, starting 11 games and earning a 4.36 ERA in 64 innings with 14 walks and 28 strikeouts in the notoriously hitter-friendly Pacific Coast League. He utilizes a fastball, curveball, changeup and slider, relying on command to retire opposing hitters.
The 37-year-old went to USC, where he was an All-American two-way player during his senior year in 1998. He hit a grand slam and earned the win on the mound in the College World Series title game against Arizona State.
"The thing with Jason's case, he pitched as an amateur a great deal at a major collegiate program," said Padres manager Bud Black. "As his career moved on and he was going back to the minors, [pitching] was something he always had in the back of his mind."
Lane played all but three games of his career with the Astros after debuting with Houston in 2002 and hitting a home run in the NLCS-clinching Game 6 for the Astros in 2005. Lane donned a Friars uniform for those other three games in 2007, going hitless in what would be the final two at-bats in the majors until Tuesday.
Lane's first at-bat in the major leagues as a pitcher might not have gone perfectly, either, but nearly everything else did. If his bat starts to come around, maybe he can start helping the Padres on offense, too -- and Lane says not to rule out that possibility.
"I still am very confident as a hitter," Lane said. "A lot of people asked me why I converted [to pitching]. I told people I never converted because I didn't think I could hit anymore, I just wasn't getting the opportunities. I got a great opportunity to try and pitch for someone that believed in me."
Will Laws is an associate reporter for MLB.com. This story was not subject to the approval of Major League Baseball or its clubs.