Padres putting finishing touches on Draft prep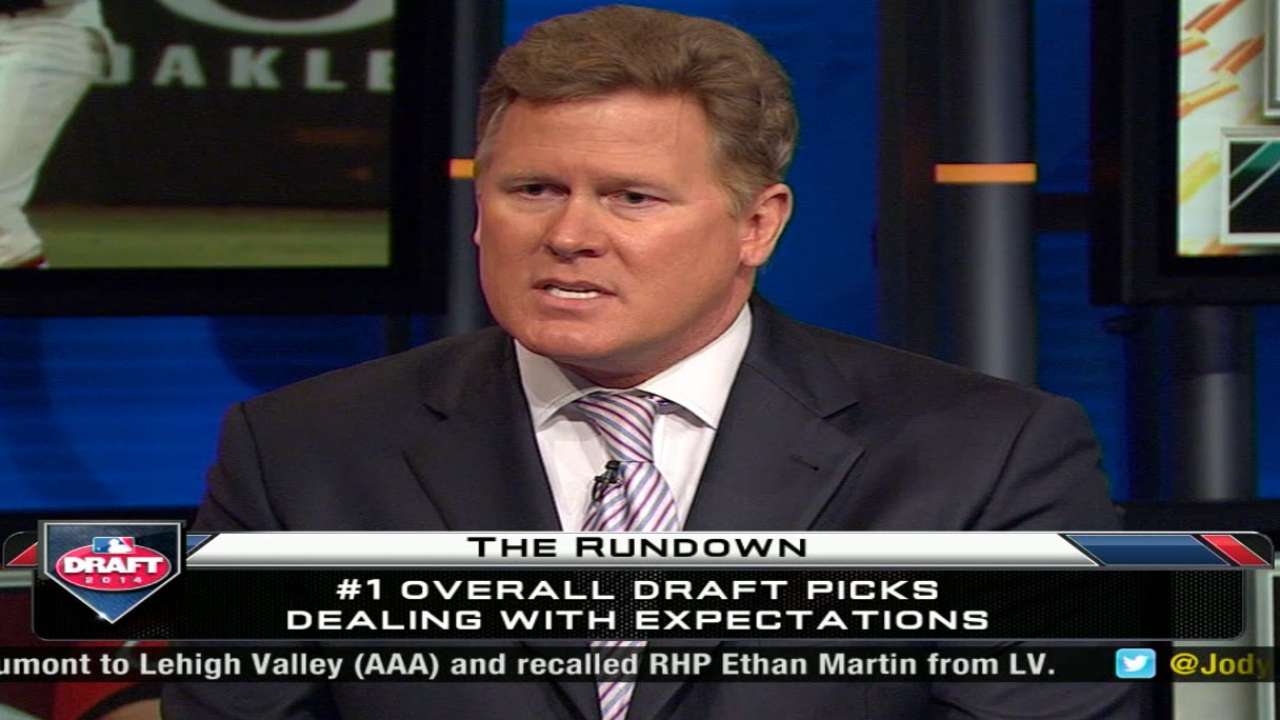 SAN DIEGO -- The Padres weren't exactly to the point Wednesday where they were putting the final touches on their Draft board in anticipation of Thursday's First-Year Player Draft.
That's because the Padres, who have the 13th overall pick in the first round, are essentially at the mercy of the 12 teams picking in front of them.
Don't be at all surprised if the Padres pick a position player with their first pick and probably a college position player at that.
"We've tried to go back and get to know and see these college players more," said Padres second-year scouting director Billy Gasparino. "We have been really aggressive with high school guys, but this year feels like a good college crop."
The Padres would probably love it if North Carolina State shortstop Trea Turner slips to No. 13, though it likely won't happen.
Other college players who the Padres are considering are Oregon State outfielder Michael Conforto, Kennesaw State catcher Max Pentecost, San Francisco outfielder Bradley Zimmer and Indiana catcher and first baseman Kyle Schwarber.
On the high school side, the Padres could jump on outfielder Derek Hill from Elk Grove High just outside of Sacramento.
If the Padres don't like any of the position players who are left at No. 13, they could always add another arm to the system, like Florida high schooler Touki Toussaint, Brandon Finnegan of Texas Christian or Kyle Freeland of Evansville. Finnegan and Freeland are both left-handers.
The Padres won't let the recent epidemic of arm and elbow injuries scare them away from going after a pitcher in the first round, or at all.
What has changed are the questions they ask pitchers that they've pursued and interviewed -- as it's not uncommon for the Padres to ask a pitcher when he started throwing his curveball, for example.
"We are digging a little more, asking them when they started playing, when they start pitching and what they did in their early years," Gasparino said.
Chad MacDonald, the team's assistant general manager of player personnel, said having scouts get to know these players on a deeper level can pay big dividends later.
"We want to ask better questions," MacDonald said.
Corey Brock is a reporter for MLB.com. Keep track of @FollowThePadres on Twitter.Will Laws is an associate reporter for MLB.com. This story was not subject to the approval of Major League Baseball or its clubs.