Gyorko heads to DL, Stults reinstated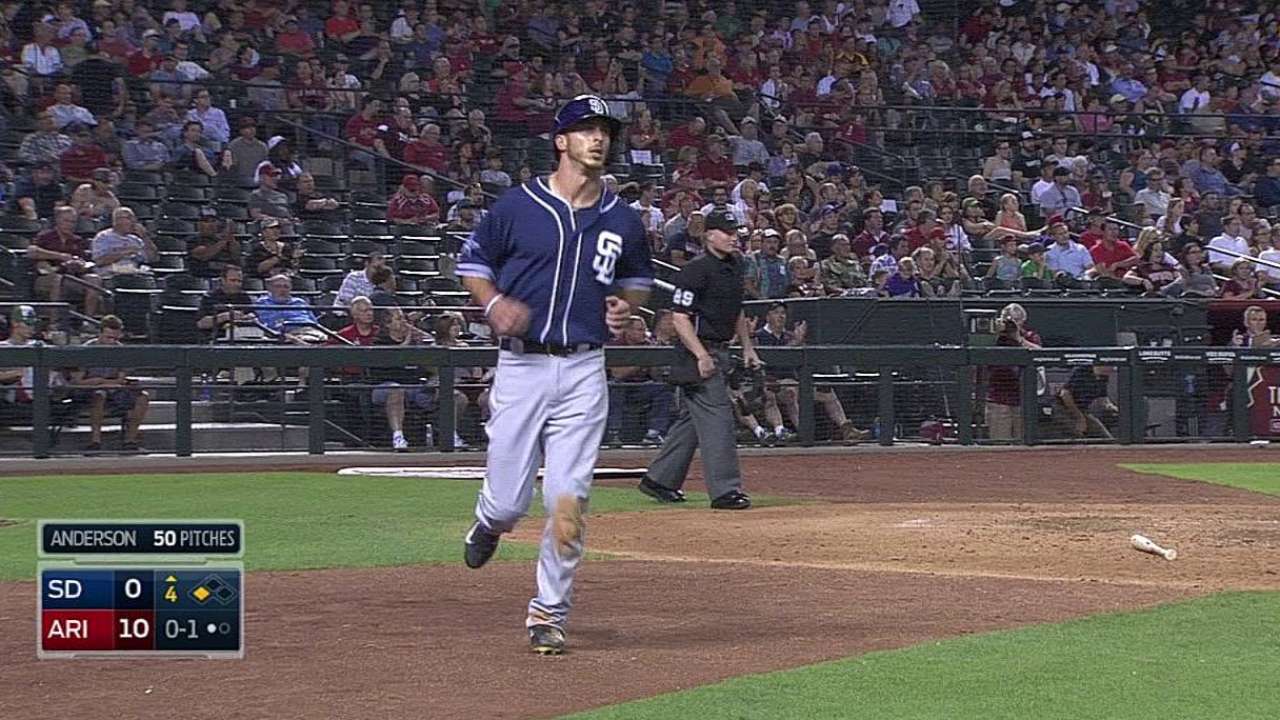 SAN DIEGO -- Second baseman Jedd Gyorko was placed on the 15-day disabled list Friday with plantar fasciitis, confirming a move that had been expected since Gyorko sat out Wednesday's game against the Pirates.
Gyorko was sporting a boot on his left foot while walking around the Padres' clubhouse before Friday's series opener against Washington. He says the pain started before last weekend's three-game set in Chicago, and he has since received a cortisone shot to help relieve it.
"It felt like there's stabbing in the heel," Gyorko said. "That feeling of walking on needles a little bit. … Every time you move you can feel it. It's one of the worst pains I've felt in my life."
Padres manager Bud Black said that Gyorko would likely head to the Minors for a rehab stint before returning to the Majors.
"Jedd's a guy that never goes in the training room, he's kind of old-school like that," Black said. "When you see his name on the training room board it catches you by surprise."
Gyorko has struggled through a bad sophomore slump this season, as he currently holds the lowest batting average (.162) and on-base percentage (.213) among all qualifying players in MLB.
"This might be a good time for him to take a step back," Black said. "And when he does come back … Some things he and [hitting coach] Phil [Plantier] have been working on, especially lately, might be put into effect in a Minor League game so it can carry over to a big league game."
After seeing former teammate Logan Forsythe struggle with a nagging case of plantar fasciitis throughout last season, Gyorko says he'll try and stay off his feet as much as possible over the next couple of weeks -- and will even sleep with his boot on -- to ensure he'll be 100 percent healthy when he returns.
"I always wanna be out there on the field," Gyorko said. "Hopefully we can get my swing right, once I get the boot off."
The team also reinstated LHP Eric Stults from the bereavement list Friday. Stults (2-6, 5.03 ERA) is slated to start Sunday's game against Washington.
Will Laws is an associate reporter for MLB.com. This story was not subject to the approval of Major League Baseball or its clubs.