Padres place reliever Patton on disabled list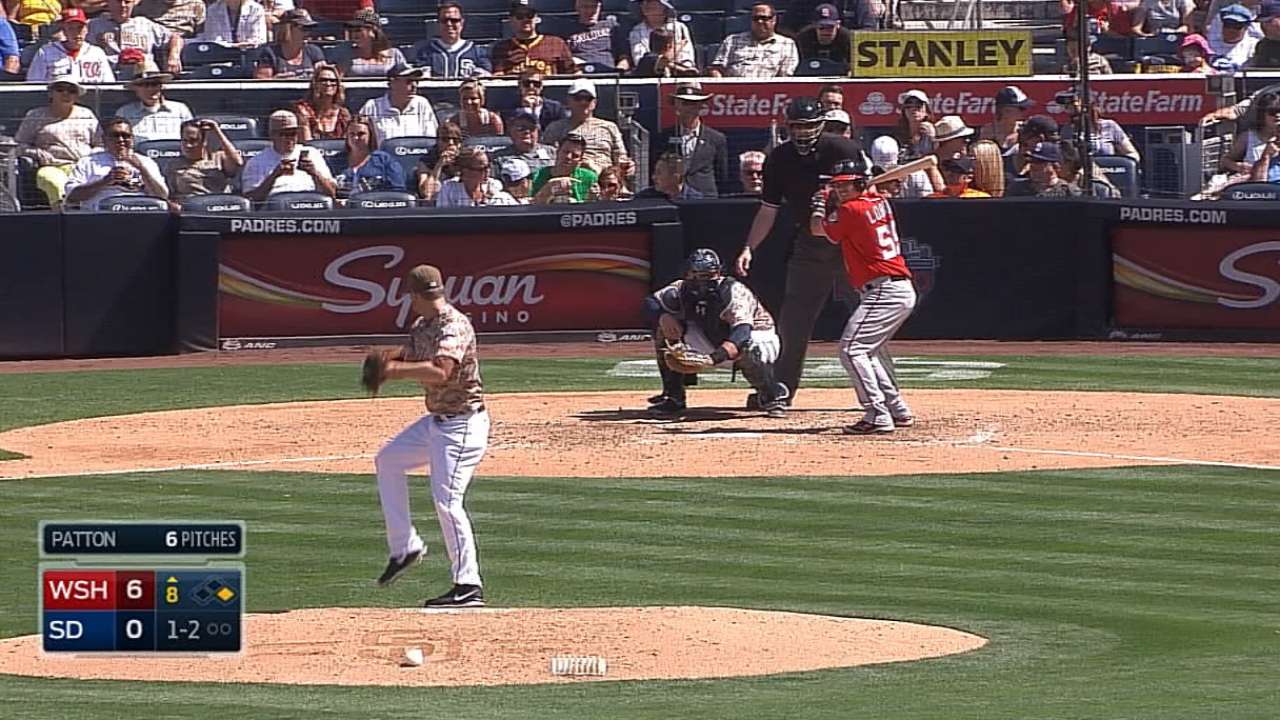 NEW YORK -- Instead of having to make a difficult decision about who to demote Saturday, Padres manager Bud Black was handed difficult news.
Lefty reliever Troy Patton was placed on the 15-day DL early Saturday morning after he had experienced shoulder pain severe enough to not be able to throw.
"It became un-pitchable yesterday," said Patton. "It came to a point where it was sore enough to say something."
Patton had been experiencing soreness for a few days, but nothing that Black through was out of the ordinary.
"I know that he'd indicated to the trainers that he had been a little sore, but all pitchers are sore," said Black. "After the first day of Spring Training, all pitchers are sore.
"It got to the point last night after the game, his shoulder is extremely weak. We felt from a medical standpoint that he wasn't going to bounce back just in a handful of days. Instead of risking that as far as time frame in trying to keep a guy active, we had to make a roster move, so it made sense to put Troy on to make sure his shoulder situation gets cleared up."
If no injuries had occurred, reliever Kevin Quackenbush likely would have been the candidate to be sent down as he's done multiple times already this season. Before allowing two runs Friday night, Quackenbush hadn't allowed a run since May 26, making an impressive bid to stay with the club longer than usual.
"He's pitched well," said Black. "We had to make a decision on someone to make some sort of move to get Jesse [Hahn] on the active roster. As far as it relates to Quack, he's pitched well enough on stay on the team. Hopefully he continues his performance. Last night a little tough with the three batters he faced. Overall his work has been very solid since he's arrived."
Like Quackenbush, Patton has also had a recent string of success in June. In six appearances this month, he hasn't allowed a run in 5 1/3 innings, giving up four hits and striking out seven.
"I wouldn't attribute it to my work load at all," Patton said of his injury. "I don't know what I could attribute it to, but that's the way I always pitch. Bullpen guys don't know when they're pitching. I could throw anytime and in the last three years [in Baltimore] that hadn't affected me, so I don't think that could be a problem."
Patton was a part of a package Baltimore traded to the Padres for catcher Nick Hundley on May 24. Since the move, Patton had only allowed two runs. After settling in with his new club, the injury is a disappointing setback.
"It's been great. Everyone's been really welcoming and very nice to me," he said. "I've been doing my best to pitch well and try to get outs, but up to this point it had been great."
"It's tough any time," Patton said of getting the injury. "This early in the season, not being able to pitch, it's tough."
As for making a swift return after 15 days, Black remains optimistic, but knows these types of injuries are ambiguous.
"We'll know more in like five or six days when the shoulder quiets down and resumes throwing," said Black. "But my hope is that he's able to pitch in 15 days. It's really too early to tell. When you're talking about a pitcher with a shoulder or elbow [injury], you don't know. If you're talking an ankle, a back, the forecast is easier."
Jake Kring-Schreifels is an associate reporter for MLB.com. This story was not subject to the approval of Major League Baseball or its clubs.