Padres share favorite memories of their fathers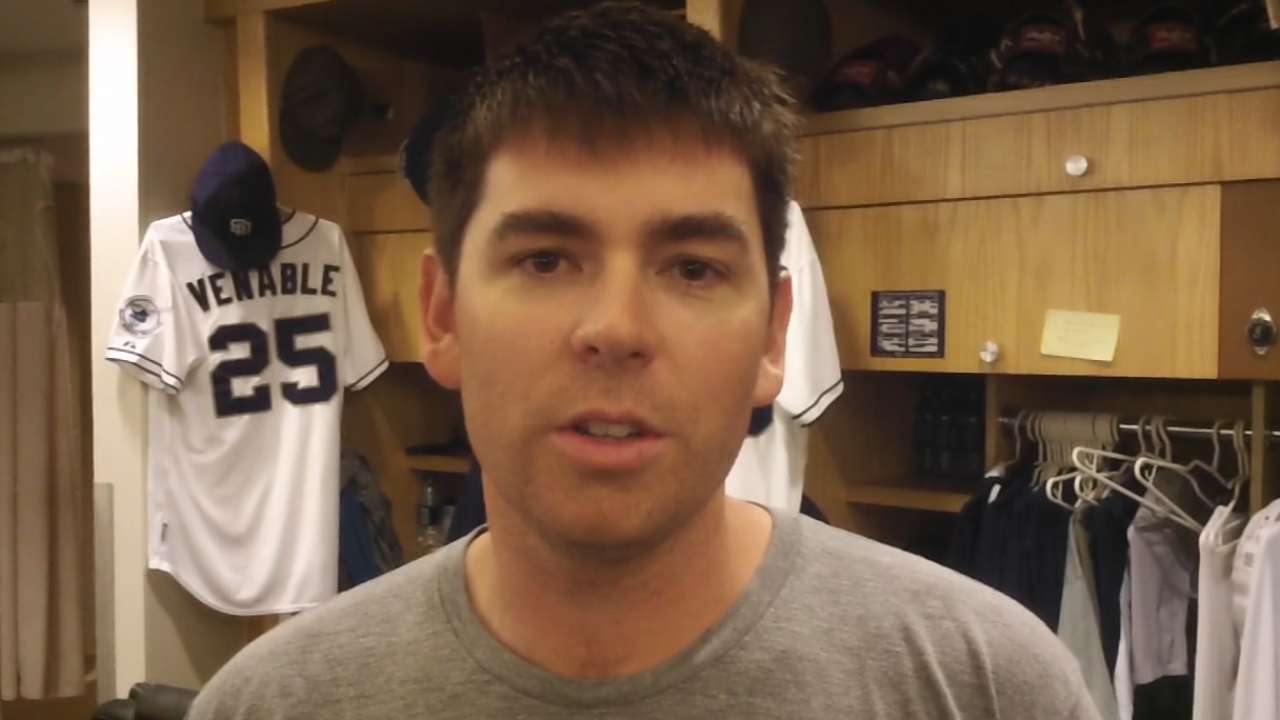 NEW YORK -- Unlike the Mets, most of the Padres, in the middle of an eight-game road trip, won't get to be with their families on Father's Day. But a few players with family on the East Coast have been lucky.
Saturday's starter Jesse Hahn got to reunite with his dad on Saturday after winning his first Major League game and Tim Stauffer's parents, residents of upstate New York, have been at Citi Field for the entire weekend.
"I don't get to see them a whole lot, so it was good to see them," said Stauffer, who remembers his dad being vital in sharing baseball with him. "He was really proactive, a good dad, got me out doing a lot of things, got me involved in the game. It's kind of nice being able to see them, and unfortunately not being at home with my son right now. [I'm] very fortunate to have a good role model."
Monday's starter Tyson Ross shared similar sentiments about his father introducing the game to him at a young age.
"He coached me from Little League up, and so I spent plenty of hours with him," said Ross. "Having him coach me, going to the park playing catch, doing things like that ... it's definitely where the love of the game started, just that bond I have with my father."
Tommy Medica was lucky. When he was growing up, his dad didn't have a full-time job, which allowed them a lot more time to spend together. His dad coached him as a youngster, too.
"Ever since I was little, my dad had been able to coach," said Medica. "I played pony baseball, so he was always the coach of that. We had a group of four or five guys that were always on the team and their dads were always the coaches. It was pretty cool."
Similar to Hahn's Connecticut family reunion at Saturday's game, when Medica got promoted for the first time against the Phillies, his parents made the trip from California to see their son.
"When I first got called up last year they flew out to Philadelphia. You could tell they were very excited, my dad especially," said Medica.
Stauffer is also a father of a 2-year-old, Noah, and is expecting another child to arrive soon in a few weeks. He enjoys the responsibilities even though he can't be with his family during the team's road trips.
"It helps you put things in perspective," said Stauffer about having children. "Definitely in the game, and it helps you in times when things aren't going well. You kind of realize that they're there for you and it's a lot of fun being able to mold a kid how you'd like to. [Noah's] a good boy."
Noah also likes baseball.
"He's a big fan," said Stauffer. "He gets pretty fired up watching the games."
Jake Kring-Schreifels is an associate reporter for MLB.com. This story was not subject to the approval of Major League Baseball or its clubs.