Kennedy, Ross each on pace for 200-strikeout season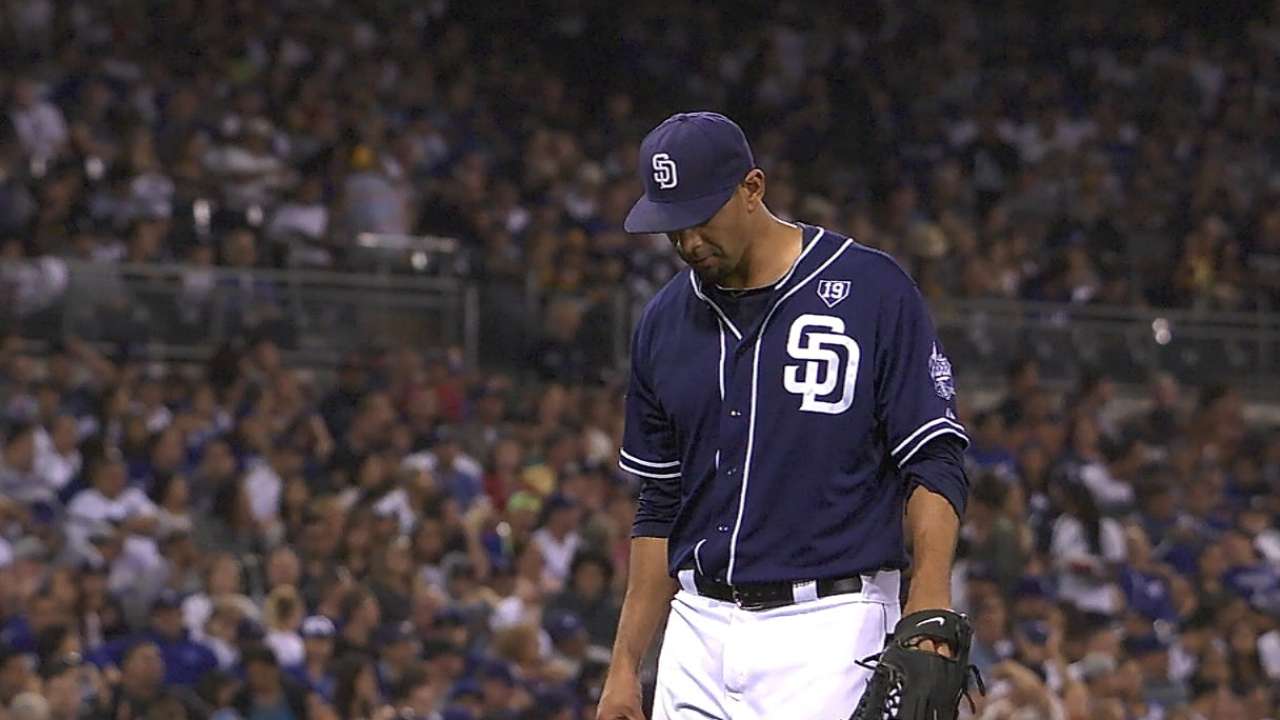 SAN DIEGO -- Ian Kennedy and Tyson Ross have both flashed mastery of their primary off-speed offerings this season -- and as a result, both are on pace to top 200 strikeouts for the first time in their careers.
In his first season as a full-time starter, Ross has maintained virtually the same strikeout rate (8.5 K/9) that he had in 2013 (8.6 K/9), when he was moved to San Diego's rotation for good in July. He came into Saturday with the seventh-most punchouts in the NL (95), on pace to hurl 205 on a regular 35-start campaign.
Ross has thrown by far the most sliders (584) of any MLB pitcher this season, 84 more than second-place Milwaukee starter Kyle Lohse, according to Baseball Prospectus. It elicits the fifth-best whiff/swing rate (48.14 percent) among all MLB sliders.
"Tyson has one of the best sliders in baseball," said Padres manager Bud Black. "So [hitters] are gonna swing and miss it."
Kennedy, meanwhile, has relied on his 12-6 curveball to fool hitters, a tactic that has worked better since his average fastball velocity has increased from 91.3 mph in 2013 to 92.7 mph in 2014. Kennedy's curveball has the sixth-most downward motion (-9.48 inches) of all pitchers who have thrown at least 100 curves this season, according to Baseball Prospectus.
"I think Ian is throwing as well as he's thrown in a few years as far as just pure stuff and making pitches," Black said. "His velocity is up, his secondary pitches are good. So it doesn't surprise me at all.
Even on an outing like the one he had on Friday against the Dodgers, when he struggled with control, Kennedy still recorded five strikeouts in five innings to vault himself to fourth place (103) on the NL strikeout leaderboard. He's on pace to log 222 punchouts in 210 innings after narrowly missing the 200-strikeout benchmark with a career-best 198 in 222 innings in 2011.
"It doesn't surprise me at all," Black said. "As long as those guys continue to make their starts, go out there every fifth day and physically feel good, they're gonna get strikeouts."
Will Laws is an associate reporter for MLB.com. This story was not subject to the approval of Major League Baseball or its clubs.