Boyer providing shutdown relief after long journey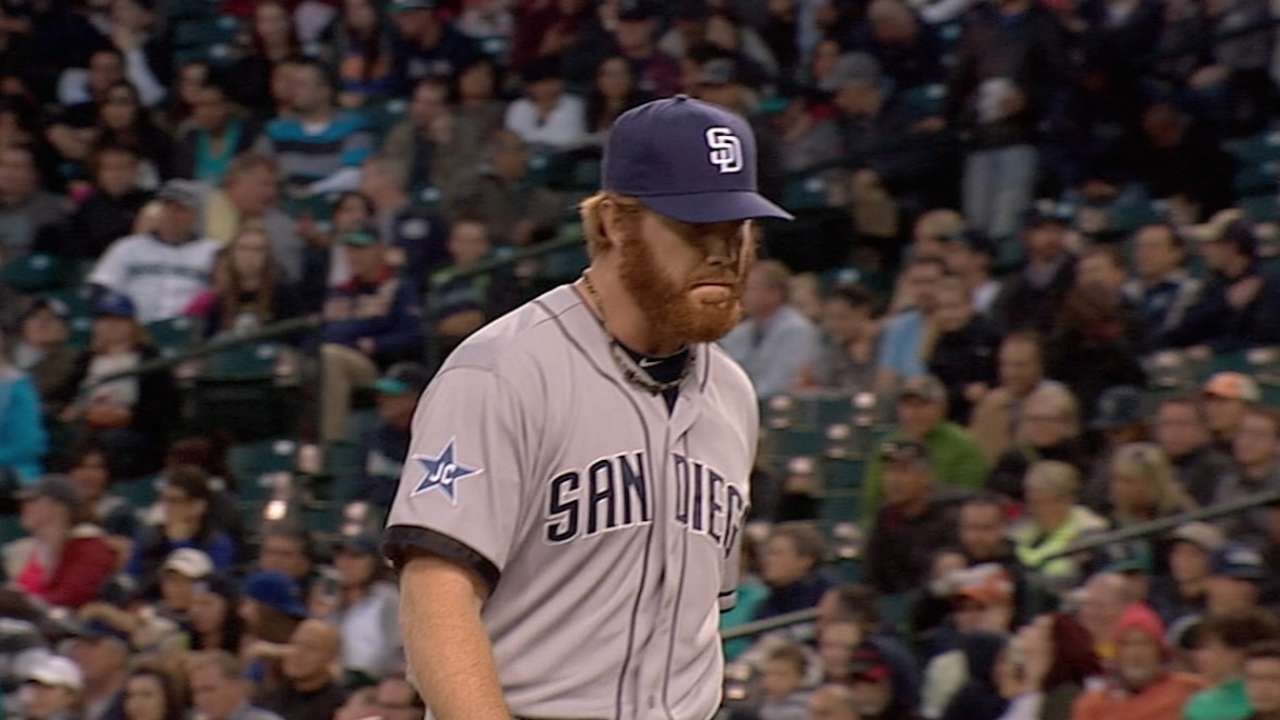 DENVER -- There have been plenty of wonderful moments during Blaine Boyer's career resurrection with the Padres, including this blissful stretch where he's retired the last 26 right-handed hitters he's faced or the 13 1/3 consecutive scoreless innings streak he carried into Wednesday's game.
Boyer retired all six right-handed hitters he faced over two scoreless innings of relief on Wednesday against the Rockies.
All of these moments, though, have paled greatly in comparison to the moment that moved him on June 20 during a game against the Mariners at Petco Park.
"There was a moment that completely changed everything for me," Boyer said Wednesday.
"When I was warming up for my first game in San Diego, I heard a 'Dad!' I looked back and could see my son, Benaiah," Boyer said. "He was sitting there, grabbing onto the railing. When he saw me looking at him, his eyes got huge and then he started uncontrollably shaking, he was so fired up to watch daddy go into a baseball game."
Benaiah Boyer is two years old.
"As I'm running into the game, I thinking, this can end right now. My boys have seen me play. It was just one of those moments that will be with me the rest of my life," Boyer said. "I'll never forget his face and seeing his older brother, Levi, who is three, watch their daddy play ball. It was so cool."
Boyer, who turns 33 on Friday, is back in the Major Leagues this season for the first time since 2011. It's been an interesting road, as he walked away from the game in '12, spending time with his family. But friend and former teammate Paul Byrd urged him to get back into the game.
Boyer even had to go to Japan last year to find his way back to affiliated baseball.
Boyer signed a Minor League deal with the Padres in January and then came back to the Major Leagues on May 22. He was designated for assignment the following day and later outrighted back to Triple-A. Finally, Boyer was recalled from El Paso on June 15. He's been getting hitters out ever since.
Boyer's just doing it differently than his first run in the big leagues with Braves (2005-09), Cardinals ('09), D-backs ('09-10) and Mets ('11).
"I have a better understanding of pitching now," Boyer said Wednesday. "I've always been able to throw fairly hard. I've always been able to throw it past the guy. That was ignorant on my part."
Boyer joked that the biggest difference between this current version of himself and previously is his 'dad strength.' Whatever it is, it's working. Best of all, he's having the time of his life.
"I'm really enjoying my time," Boyer said.
Corey Brock is a reporter for MLB.com. Keep track of @FollowThePadres on Twitter. This story was not subject to the approval of Major League Baseball or its clubs.