Injuries, underperformance strike Padres in first half
San Diego counting on big comebacks from Gyorko, Cashner in second half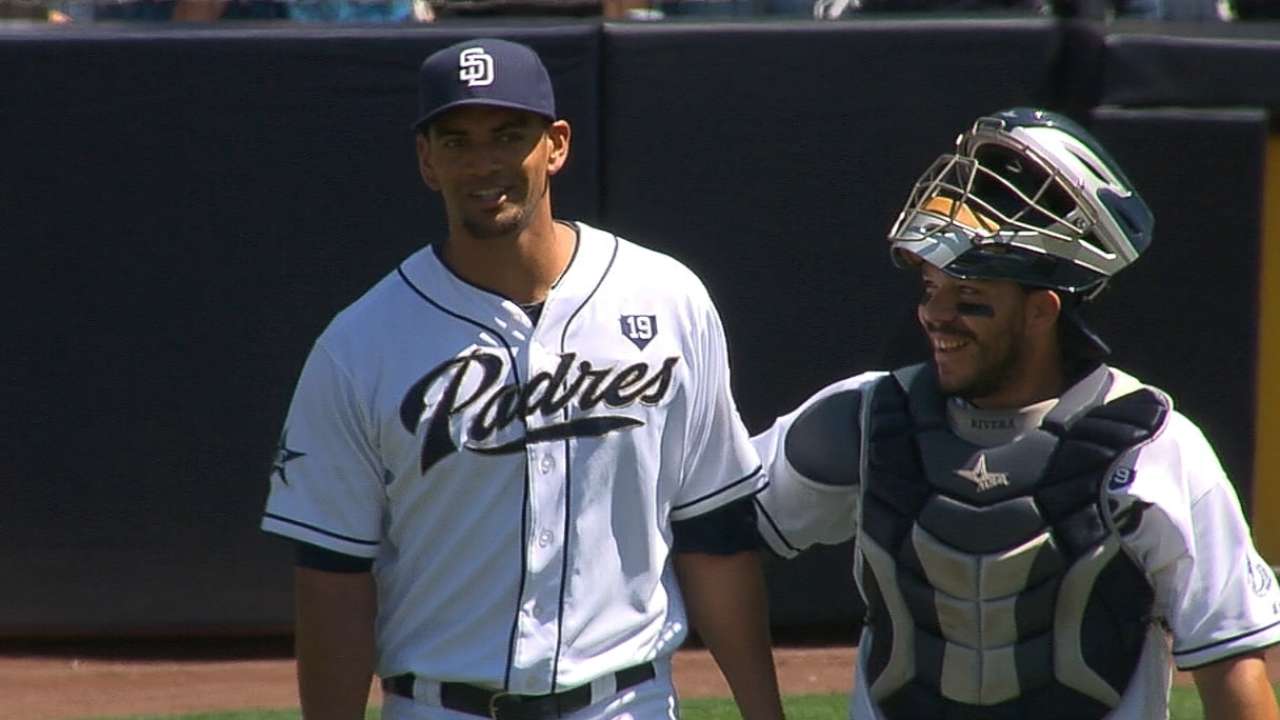 SAN DIEGO -- A familiar theme -- injuries and underperformance -- haunted the Padres again in the first half of the season, leaving the team on pace for its fourth consecutive losing season.
A tumultuous first-half led to the dismissal of general manager Josh Byrnes following not quite two and a half seasons. The Padres' offense bottomed out, especially during June when the team hit .171, the lowest one-month total for any team in baseball history.
Nearly every regular in the starting lineup fell below -- and in many cases, far below -- where they had been previously in their careers in terms of batting average and other significant offensive categories.
The Padres (41-54) ended the first half with two shutout losses, Nos. 13 and 14 of the season.
"We've got to get our bats going," said Padres manager Bud Black.
But there are signs things could be looking up in the second half.
The Padres are hopeful they'll get second baseman Jedd Gyorko (plantar fasciitis, left foot), shortstop Everth Cabrera (left hamstring strain), first baseman Yonder Alonso (right wrist tendinitis) and pitcher Andrew Cashner (right shoulder soreness) back from the disabled list before too long.
"We're not getting a great deal of production from their replacements," Black said. "The second half looks to be better if we can keep the right guys on the field."
Five key developments of the first half
1. Padres dismiss Byrnes
The Padres dismissed Byrnes because as executive chairman Ron Fowler said "you expect better performance."
First-half awards
MVP: Huston Street
Street nearly went the entire first half without a blown save. He converted his first 23, most without any trepidation. No one had a better save percentage since the start of 2012 than Street (95.2).
Top starter: Tyson Ross
Forget the 10 losses, Ross has one of the best sliders in the game and a swinging-strike rate (12.5) and ground-ball rate (58.0) that are among the best in baseball this season.
Top rookie(s): Jesse Hahn and Odrisamer Despaigne
Neither pitcher was really on the team's radar when Spring Training started, but both are part of the future. Look for more starts and don't be surprised by more success moving forward .
Top reliever: Street
Street's body of work, from Opening Day until the All-Star break has been exceptional. He doesn't blow the ball by hitters, but sets batters up, mixes his pitches and simply produces out after out.
2. Padres catch injury bug
The Padres were (again) besieged by injuries. Pitchers Josh Johnson, Andrew Cashner, second baseman Gyorko, third baseman Chase Headley, first baseman Yonder Alonso and shortstop Everth Cabrera, to name a few, spent time on the disabled list in the first half.
3. A struggling lineup
There have been times in Bud Black's previous seven seasons when a handful of hitters have been cold at once. But nearly the entire lineup at once?
4. Street stays solid
Closer Huston Street opened the season with 23 consecutive saves and didn't suffer his first blown save until July 5 against the Giants. No wonder this guy has the best save percentage (92.5) since the start of 2012.
5. Sweet-swinging Seth Smith
Byrnes took some heat locally when he dealt popular -- and successful -- reliever Luke Gregerson to the A's for Smith, a left-handed bat to combat their woes against right-handed pitching a year ago. All he's done is develop into their best hitter. Period.
Five storylines to watch in the second half
1. Filling the GM vacancy
First and foremost, the Padres need to find a new general manager. The Padres certainly moved in the right direction during the final week of June and early in July going through a handful of interviews to replace Byrnes, talking with people with diverse backgrounds in the game. They hope to have a new general manager hired by Aug. 1.
2. Who stays, who goes?
With the non-waiver trade deadline on July 31 fast approaching, the Padres are in a position where some of their players -- Headley, Street and reliever Joaquin Benoit, to name a few -- will be in hot demand by other teams. Who will the Padres move and who will they get in return?
Players to watch
Ian Kennedy
Kennedy's big first half merited notice as his strikeout per nine inning rate spiked (from 8.06 in 2013 to 9.63 n 2014) and he had more success away from spacious Petco Park (3.06 ERA) than at home.
Odrisamer Despaigne
The small sample-size thus far on Despaigne has been impressive. The multiple arm angles, varying pitches and differing velocities has been a hoot. Better still? His 1.35 ERA in his first four starts and 6.08 hits per nine inning rate.
Kevin Quackenbush
Should the Padres trade closer Huston Street or Joaquin Benoit, look for Quackenbush, a Minor League closer, to get more high-leverage usage.
3. More fresh faces
We've seen glimpses of what rookies pitchers Jesse Hahn, Odrisamer Despaigne and Kevin Quackenbush can do. Expect to see more of them in the second half and quite possibly another pitching prospect, 21-year-old Matt Wisler, who is currently in Triple-A.
4. Better health?
The Padres hope to get some of the aforementioned players back from the disabled list in July and early August, namely, Gyorko, Cabrera and Alonso. However, the big problem is that those players were also struggling offensively before they went down with injuries.
5. Can the starting pitching get any better?
The Padres, for all their problems in the first half, had the fourth-lowest ERA among starting pitchers (3.18) in the big leagues in the first half of the season. That might be hard to replicate in the second half, though the team is expecting Andrew Cashner to come off the disabled list at some point.
Corey Brock is a reporter for MLB.com. Keep track of @FollowThePadres on Twitter. This story was not subject to the approval of Major League Baseball or its clubs.