Padres call up infielder Nelson from Triple-A El Paso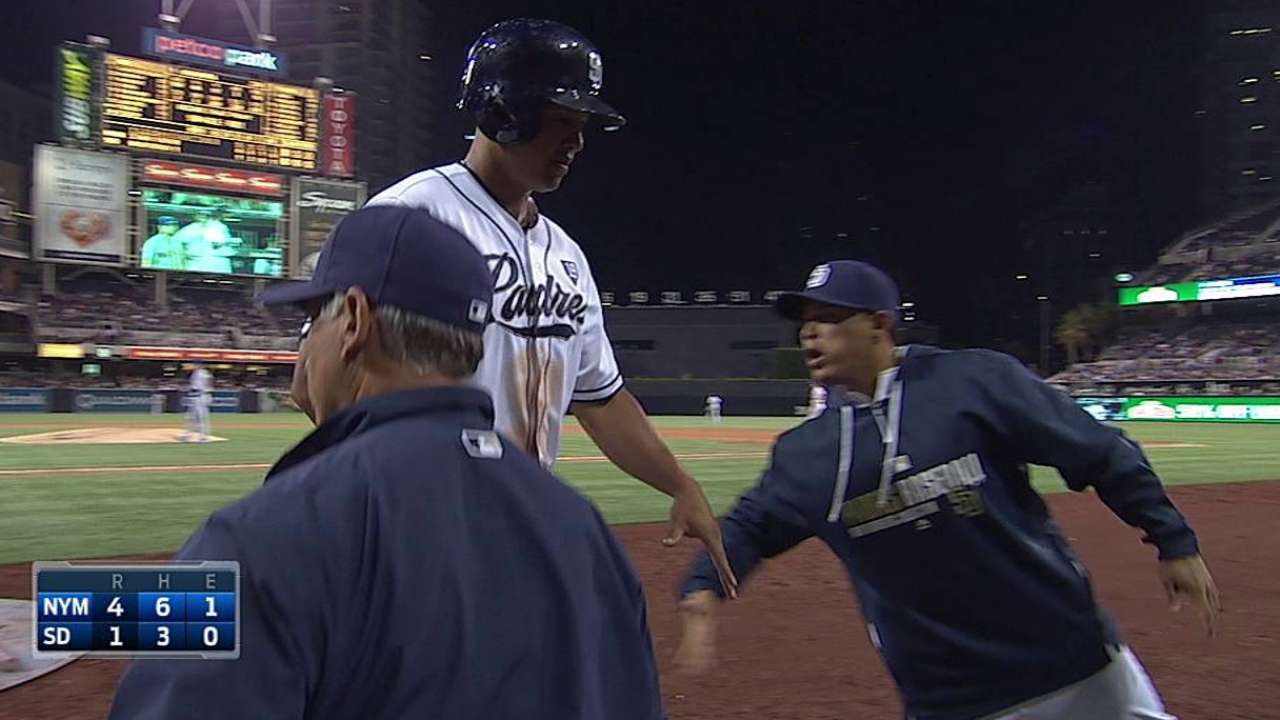 SAN DIEGO -- The Padres added some versatility to their big league roster -- someone with Major League experience as well -- when they selected infielder Chris Nelson from Triple-A El Paso on Friday.
The move comes a day after infielder Irving Falu was claimed off waivers by the Brewers. Nelson is playing second base and batting seventh in Friday's lineup as the Padres open the second half at home against the Mets, continuing the second base carousel that has been constantly revolving since Jedd Gyorko went on the disabled list in early June.
Nelson is the fifth player to start at second since Gyorko's injury, joining Falu, Alexi Amarista, Brooks Conrad and Jace Peterson.
"He's a guy we hope provides a little bit of offense," said Padres manager Bud Black. "He has a little power in the bat, he's got some pull power. He's been in the big leagues, he's got good hands on defense."
Nelson, 28, posted a .293/.422/.463 line with two homers and six doubles in 24 games with El Paso. He signed a Minor League deal with the team on June 19 after opting out of his contract with the Reds. He played 63 games this season with Triple-A Louisville in Cincinnati's farm system, putting together a line of .274/.330/.363.
"It was one of those deals where I was just waiting for September if something happens," Nelson said. "It was a bit of a gamble [to opt out], but I believe in myself and my ability. You just have to take the risk sometimes."
San Diego is also keeping an eye on first baseman Tommy Medica's sore groin and the club felt that it needed an extra position player with some versatility on the bench.
Nelson has played first base, second base and third base for El Paso. He was a first-round pick by the Rockies in the 2004 First-Year Player Draft, and he is a .268 hitter over four Major League seasons with the Rockies (2010-13), Yankees ('13) and Angels ('13).
Nelson's best season in the big leagues was 2012, when he hit .301 with 104 hits, including nine home runs and 53 RBIs.
Will Laws is an associate reporter for MLB.com. This story was not subject to the approval of Major League Baseball or its clubs.