Trade roundup: Angels swing deal for Street
Padres closer headed to Anaheim in four-for-two swap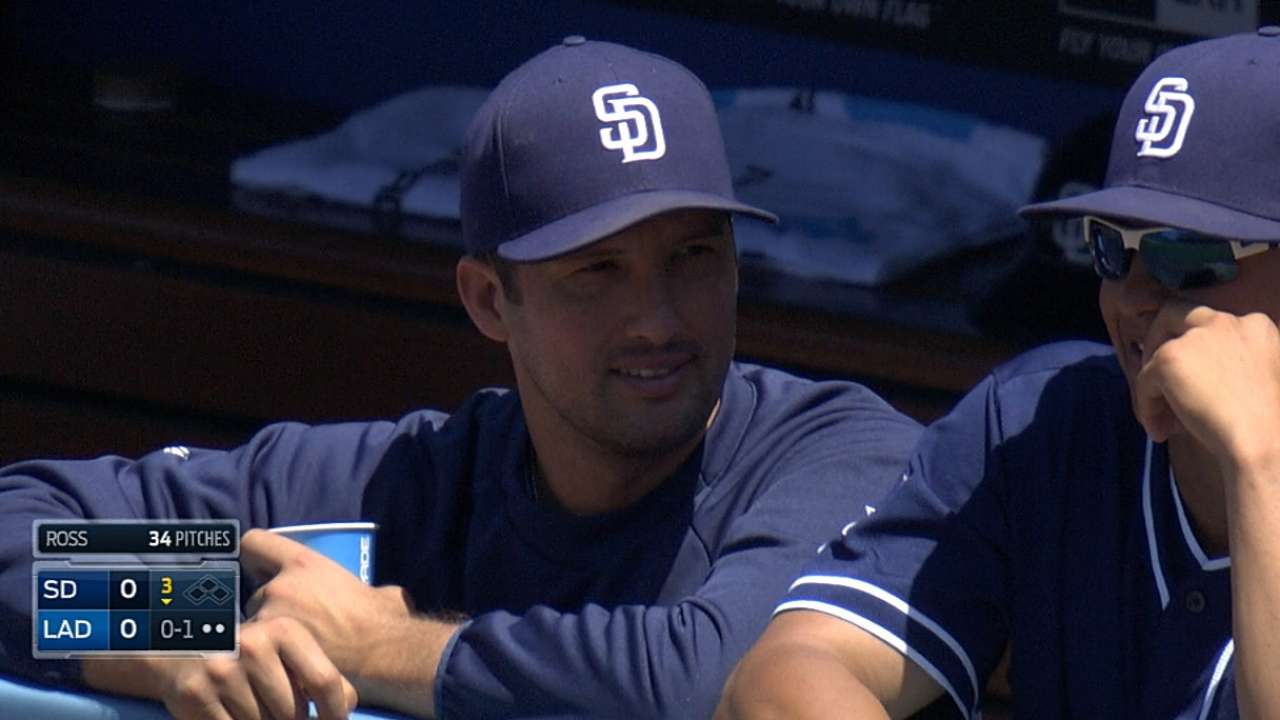 With July more than half over and the All-Star break fully in the rearview mirror, a single topic dominates baseball these days: the approach of the July 31 non-waiver Trade Deadline. Clubs are sorting out whether they're buyers or sellers and trying to assess how new Draft-pick compensation rules affect their valuation of players, all while also trying to, you know, win ballgames.
From now until the Deadline, we'll be checking in on the trade news around baseball, with help from MLB.com's reporters. The countdown is under way.
Street of Angels: Padres closer Huston Street has become the first major domino to drop in the trade season, as the Angels acquired the right-hander on Friday in a six-player deal highlighted by Street and Angels top prospect infielder Taylor Lindsey.
San Diego is also expected to receive pitcher R.J. Alvarez, shortstop Jose Rondon and another Minor Leaguer in the deal, with Double-A pitcher Trevor Gott going to Los Angeles along with Street.
The right-hander can earn $7 million as part of a club option in 2015. He is expected to bump Joe Smith out of the Angels' closer role.
The Price could be right: The David Price - Ben Zobrist - Seattle Mariners rumors kept-a-flyin', with Jon Heyman of CBSSports.com reporting that the Rays have mentioned Seattle right-hander Taijuan Walker and other prospects in potential deals for Price, a link-up that was first reported by FOXSports.com's Jon Morosi.
Heyman said talks between the clubs "are ongoing and fluid," and that they don't all include both players. The Mariners are also looking at bats, Heyman wrote, and have kicked the tires on Marlon Byrd (Phillies), Dayan Viciedo (White Sox) and Josh Willingham (Twins).
Philly's latest: Heyman wrote a lengthy post on Friday listing the Philadelphia players who could become available if general manager Ruben Amaro Jr. decides to go into full sell mode, and it mentions half the team's roster.
The two most intriguing potential pieces for playoff contenders are lefty starters Cole Hamels and Cliff Lee, but it remains to be seen what Amaro decides there.
Tiger time: Morosi tweeted Friday that the Tigers are talking to the Rangers about their closer, Joakim Soria, and that Detroit is also engaged in conversations with San Diego about reliever Joaquin Benoit, who pitched for Detroit last year.
Windier city? Morosi also tweeted that Cubs shortstop Starlin Castro is drawing plenty of interest from around the Major Leagues, but that "the Cubs do not plan to move him this month," according to sources.
Giant steps: Meanwhile, CSNBayArea's Andrew Baggarly wrote on Twitter that the Giants are thinking about signing second baseman Dan Uggla, who was released by the Braves on Friday.
Doug Miller is a reporter for MLB.com. Follow him on Twitter @DougMillerMLB. This story was not subject to the approval of Major League Baseball or its clubs.