Hinch proud of process behind Street trade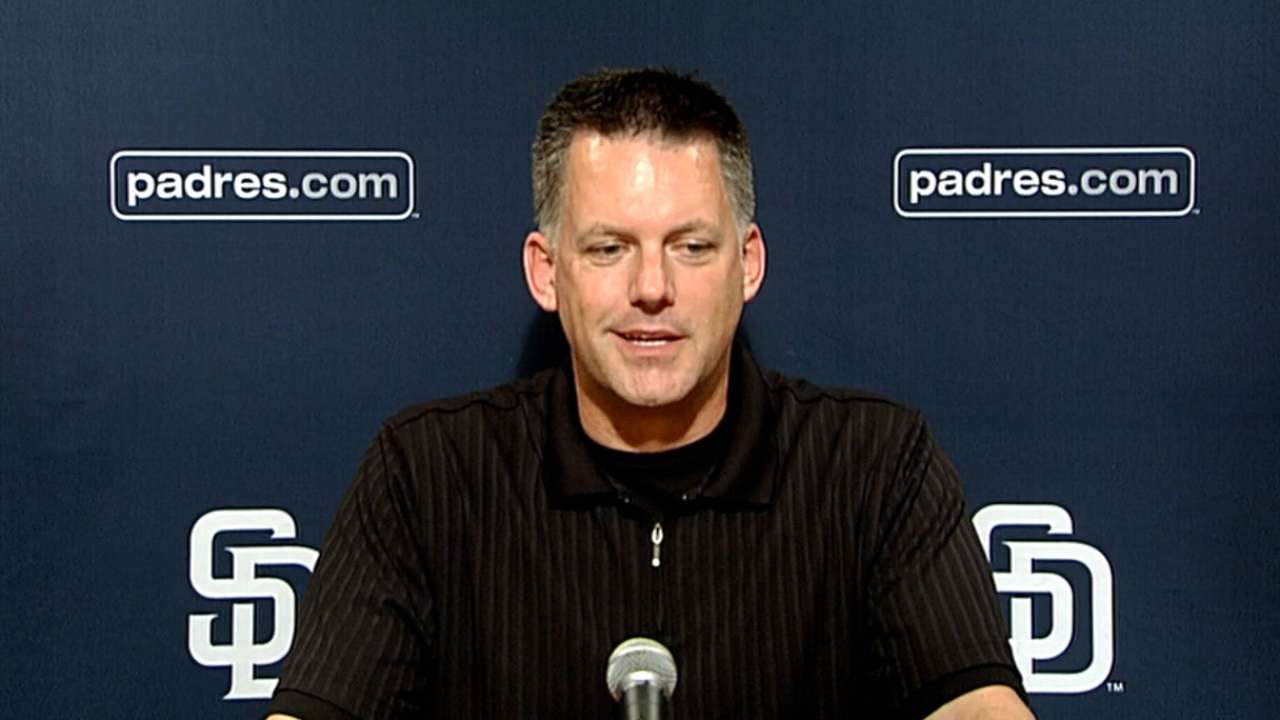 SAN DIEGO -- Assistant general manager A.J. Hinch didn't even need a moment to deliberate on Saturday when asked to pick the most difficult of his professional pursuits -- getting his first big league hit, winning his first Major League game as a manager or pulling off his first trade.
"Oh, the trade, by far," Hinch told MLB.com, with a smile on his face. "With the hit [in 1998], at least I could at least blame myself for it taking so long. The first win as a manager [in 2009], it was very nerve-wracking, but it's somewhat out of your control.
"With the trade, there are so many moving parts, and you're trying to hit a lot of different check marks."
Hinch certainly felt as though the organization accounted very well for itself after trading All-Star closer Huston Street to the Angels on Friday night for four Minor League players.
Hinch, who is presiding over the day-to-day operations of the big league roster following the dismissal of GM Josh Byrnes on June 22, was ultimately the one who made the final call on the six-player trade with the Angels, which had Street as the centerpiece.
Hinch had plenty of assistance, as current assistant GMs Fred Uhlman Jr. and Josh Stein, and senior vice president of baseball operations Omar Minaya chimed in. Professional scouts contributed reports on the four players -- infielders Taylor Lindsey and Jose Rondon, and pitchers R.J. Alvarez and Elliot Morris.
Hinch's relationship with Angels GM Jerry Dipoto might well have made for a pretty easy transaction as well, as the two worked together with the D-backs from 2005 to 2010. Dipoto was the director of scouting and player development while Hinch held several front-office posts, eventually ascending to manager in 2009 and 2010.
In the end, though, you had two individuals motivated to get something done.
"Jerry and I spent a lot of time on the phone, brainstorming about what they were after and what we were after. Slowly but surely, we got to the point where we were both meeting each other's goals," Hinch said. "His goal was to add Huston Street. Ours was to extract talent. It expanded from there, and the next thing you know, it's a four-for-two [deal].
"Once you get down to the finish line, relationships matter. We were both really being direct with the other in terms of communications and what we were trying to accomplish."
Even though Hinch and Dipoto had talked for well over a week about a potential trade, if you would have told Hinch on Friday morning that by the time he drove home after the game that a deal would have been done, well ...
"I've kind of learned in my time in baseball to expect the unexpected," he said. "You never know. At this time of year, with the state of how things are going, this being trading season, anything can happen.
"We had specific criteria we felt like we were going to need to trade a talent like Huston Street, and we accomplished that. I have a lot of pride in our process in how we're doing it. At the end of the day, if I can finish the day saying we acted in the best interest of the organization and felt like we did what was best for the organization moving forward in its current state, then I can sleep well at night."
Corey Brock is a reporter for MLB.com. Keep track of @FollowThePadres on Twitter. Will Laws is an associate reporter for MLB.com. This story was not subject to the approval of Major League Baseball or its clubs.