McKee, 105, throws out first pitch at Padres game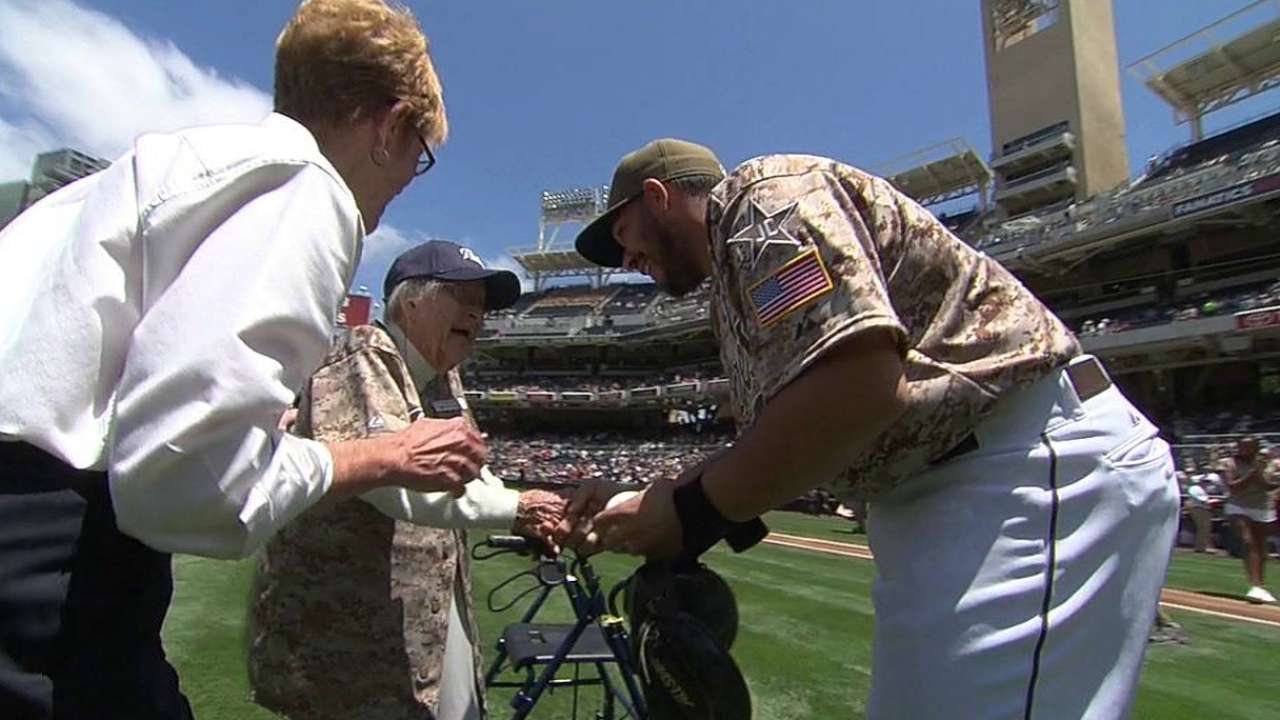 SAN DIEGO -- Agnes McKee didn't spend a whole lot of time worrying about how well her ceremonial first pitch would be received on Sunday at Petco Park.
"All pitchers have trouble with control," McKee said, smiling.
McKee is four days past her 105th birthday, so the direction of her toss wasn't going to make or break her afternoon in the sun, a day that was to also include a hot dog and even a craft beer.
But first, about that first pitch ...
McKee used a walker to get to the area between the mound and the plate. Catcher Rene Rivera stood in front of the plate as McKee prepared herself. She wound up her right arm as the crowd howled before delivering an underhanded toss in Rivera's direction.
This, McKee agreed, was far better than what she would have normally been doing on a Sunday at the Fairwinds-Ivey Ranch Retirement Community in Oceanside, Calif., where she's lived the past 12 years.
How did this happen? How did McKee become the oldest person to throw out a first pitch at a Padres game?
A group from her retirement home was planning an excursion to the game. Staff member Sheila Alston called the Padres to ask if they had interest in having McKee, who celebrated a birthday on Wednesday, throw out the first pitch.
"From there, it just exploded," said Jane McKee, Agnes' daughter, who lives in Fallbrook.
There was a natural tie-in for McKee with the Padres' longstanding military initiative. Their Sunday first pitches are usually reserved for honoring the military. McKee's late husband, Harry, fought in the Navy in World War II. Harry McKee died in 2008, just shy of his 99th birthday.
McKee said she wasn't anticipating any nerves about throwing out the first pitch. She had practiced at her retirement home -- both overhand and underhand throws. She didn't really understand what all of the fuss was about.
"I don't feel nervous I guess because these [questions] have been going on for two weeks," she said. "I didn't realize what I was getting into.
"It's an exciting time. I'm proud to be able to do it."
Corey Brock is a reporter for MLB.com. Keep track of @FollowThePadres on Twitter. Will Laws is an associate reporter for MLB.com. This story was not subject to the approval of Major League Baseball or its clubs.