Solarte makes Padres debut at second base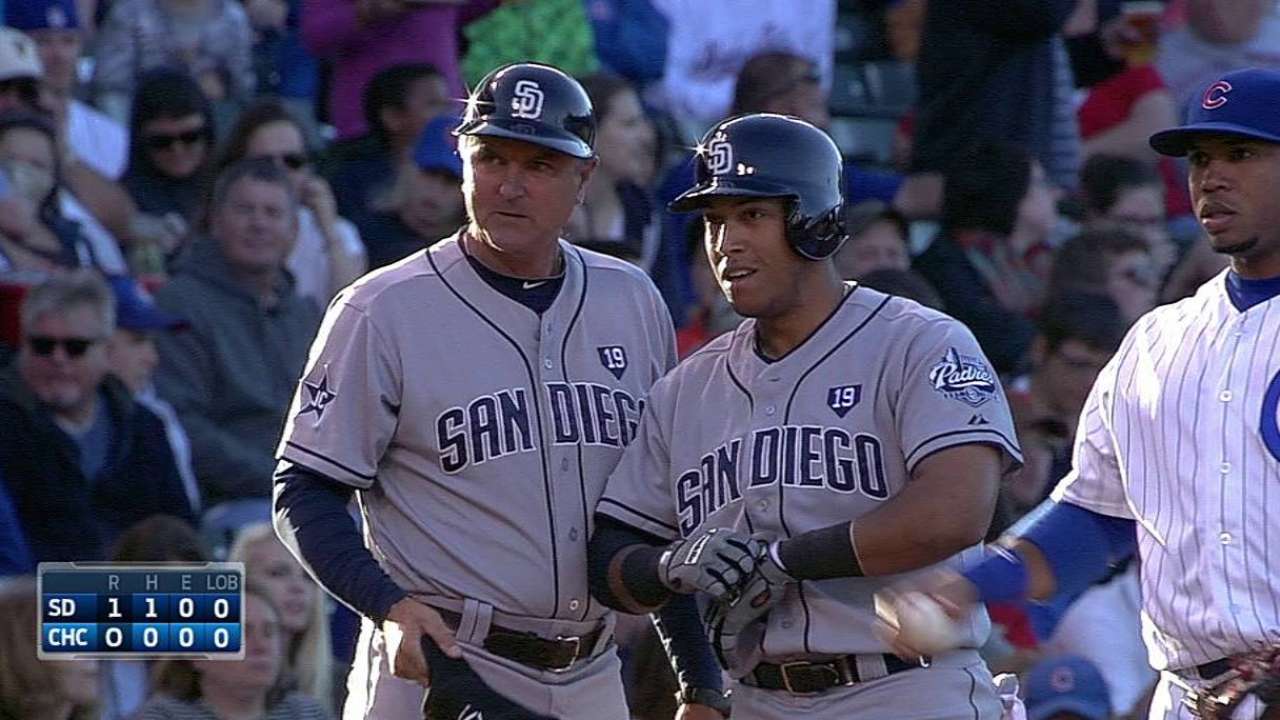 CHICAGO -- Fresh off the trade wire, Yangervis Solarte made his Padres debut on Wednesday night against the Cubs, hitting fifth and playing second base.
In his first at-bat with his new team, Solarte hit an RBI triple into the right-field corner in the first inning and scored on Carlos Quentin's sacrifice fly. Solarte went 2-for-4 in the Padres' 8-3 victory, scoring twice.
"It's surprising a little bit," Solarte said through a translator before Wednesday's game. "[I'm] really happy for the opportunity and looking forward to a good start."
"He does a lot of good things on the field fundamentally that will suit us fine," manager Bud Black said. "We need him to obviously do some things at the top of the order, get on base. Hopefully he can swing the bat like he did in New York."
Solarte was part of the deal Tuesday morning that sent longtime Padres third baseman Chase Headley and $1 million to the Yankees. San Diego also received right-handed Class A pitching prospect Rafael De Paula.
The 27-year-old rookie Solarte hit .254 with six homers, 31 RBIs and 26 runs in 75 games for the Yankees after impressing in Spring Training and making the Opening Day roster. He got off to a strong start in April, but was demoted to Triple-A after struggling in June.
Fifty-six of Solarte's 70 starts with the Yankees came at third base, primarily due to inconsistency at the position. But he manned second for more than half of his nine-year Minor League career, playing 325 games there.
"I think Chris Nelson is a little more comfortable at third. I think Solarte is a little more comfortable at second," Black said of his reasoning to start the two at those respective positions on Wednesday.
De Paula won't get a chance to make his debut at Class A Lake Elsinore until Thursday at the earliest. The team was off Wednesday and De Paula didn't pitch in Tuesday's 8-3 loss.
"He throws hard, he's got a good changeup and he's a good prospect to have," Padres interim GM A.J. Hinch said on Tuesday. "We're going to continue to try to develop [him]."
Headley lined a walk-off single to left field in the 14th inning in his fourth at-bat as a Yankee on Tuesday night, on a day when he woke up in Chicago as a Padre.
Daniel Kramer is an associate reporter for MLB.com. This story was not subject to the approval of Major League Baseball or its clubs.