Padres activate Everth from DL; Lane designated
Shortstop back in leadoff spot as infield returns to full strength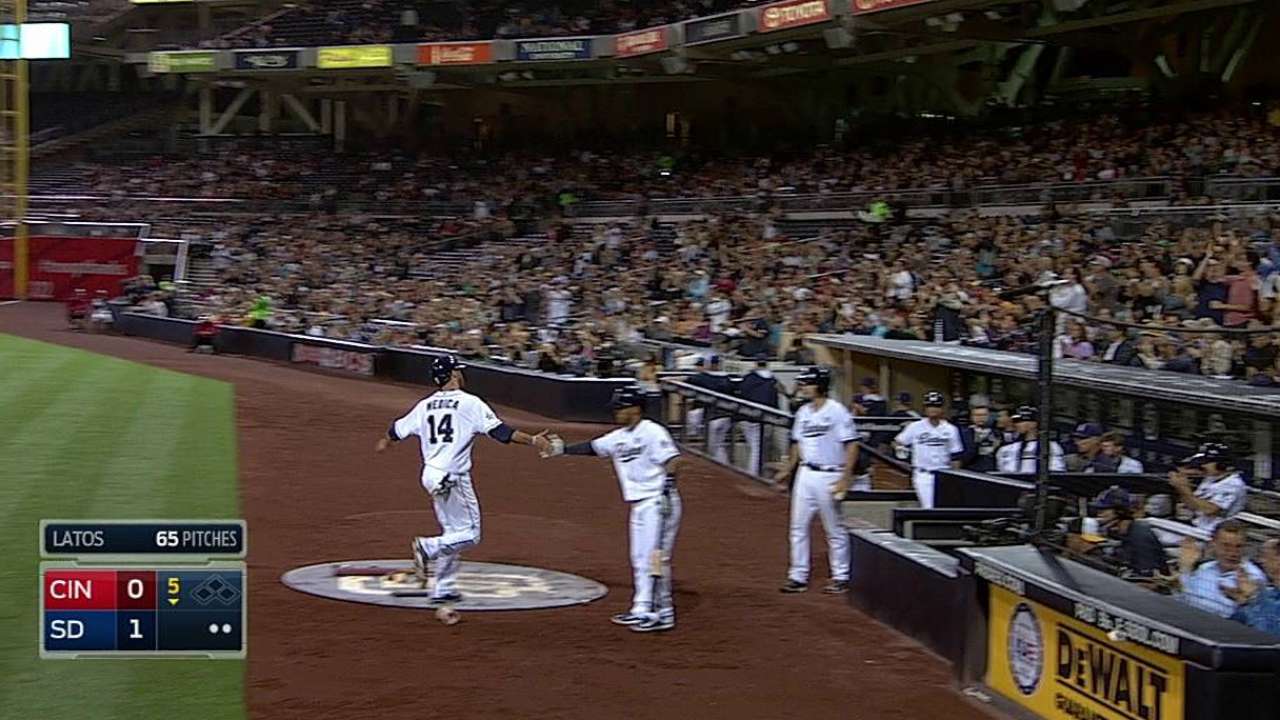 SAN DIEGO -- Shortstop Everth Cabrera was reinstated from the 15-day disabled list on Tuesday -- and with that, for the first time in nearly two months, the Padres infield is finally back to how manager Bud Black wants it to be.
"When he's right, he's a catalyst for our club," Black said. "At his height, he's a dynamic offensive player. ... We need him to play well."
With the return of Cabrera, who has been sidelined since July 1 with a left hamstring strain, the Padres have now seen three-fourths of their Opening Day infield return from lengthy injury layoffs in the past four days. The team activated first baseman Yonder Alonso (wrist tendinitis) from the DL on Saturday, and second baseman Jedd Gyorko returned Monday after he was sidelined in early June with plantar fasciitis.
"It's not fun when you have three-quarters of your infield down [with Triple-A El Paso] for rehab," Alonso said. "But it's nice that we're all coming back at the same time, and that we're going to be able to help the team out."
The fourth member of that Opening Day quartet, Chase Headley, was traded to the Yankees while the other three players were away from the big league club last week rehabbing their injuries.
"When you look at the 13 position players, it's a little different than what you projected [at the beginning of the season]," Black said. "It's good to get those guys back after extended layoffs. Hopefully they can get up to speed and produce as quickly as possible."
Cabrera hit .350 (7-for-20) with four walks, three strikeouts and a stolen base in a seven-game rehab assignment for El Paso.
"I wasn't feeling good running before," Cabrera said. "Now my legs are back, I feel great. I'm going to run like a crazy kid."
He has a slash line of .218/.256/.290 with three homers and 16 RBIs in 80 games for the Padres this season, and was back in the lineup for Tuesday night's game vs. St. Louis in his customary leadoff spot.
"He hasn't played up to his own expectations this season," Black said. "And I think he's pretty adamant about making amends for the early part of the year and having a great last two months."
To make room for Cabrera on the active roster, the Padres designated left-hander Jason Lane for assignment. Lane, a former outfielder, started his first Major League game for San Diego on Monday against Atlanta and gave up one run in six-plus innings.
The team has 10 days to trade Lane or let the 37-year-old clear waivers, where he could be claimed by another club.
"There's a part of me that hopes that happens for Jason," Black said. "Those are the type of situations where if it does work out for the player, you're very happy for him."
If Lane goes unclaimed, he could accept an assignment back to El Paso or elect to become a Minor League free agent.
"I think he's pitched well enough in the Minor Leagues to deserve a shot," Black said. "We gave it to him here. It could happen again if he clears waivers and stays in our system. You never know."
Will Laws is an associate reporter for MLB.com. This story was not subject to the approval of Major League Baseball or its clubs.