Padres send Denorfia to Mariners for Minor Leaguers
San Diego acquires outfielder Almonte, right-hander Kohlscheen from Seattle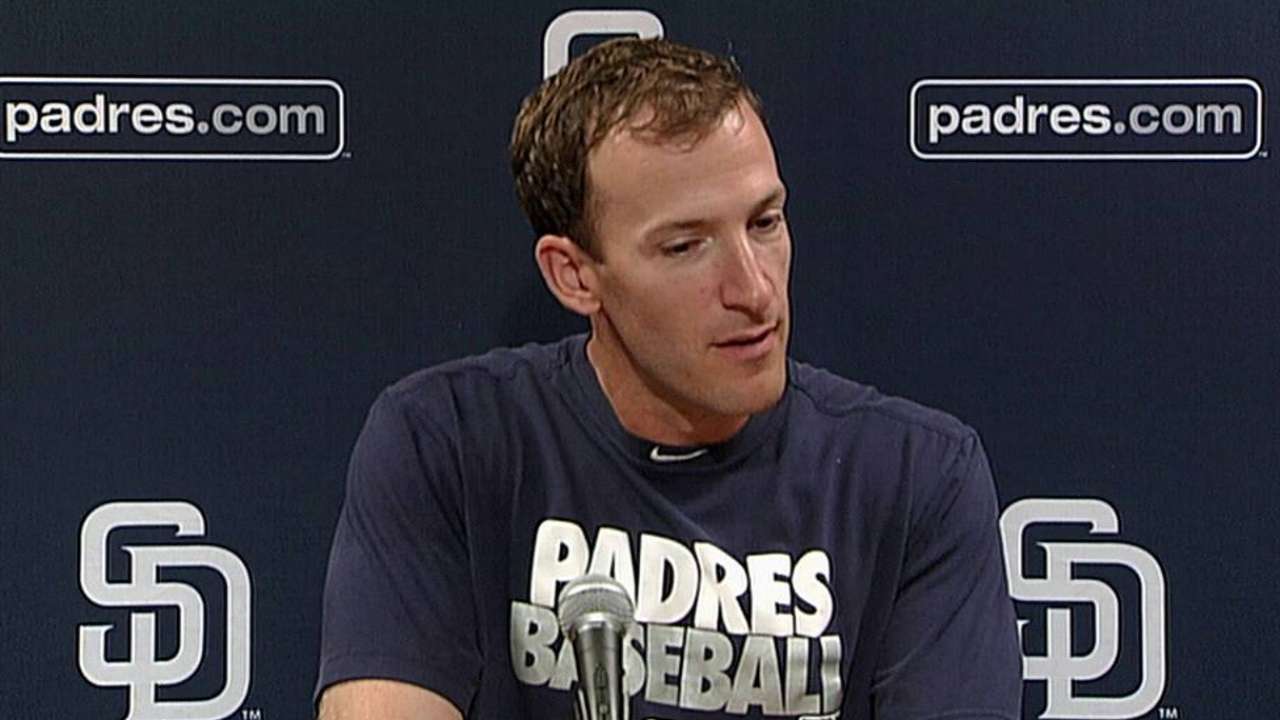 SAN DIEGO -- It was a peculiar feeling for Chris Denorfia on Thursday morning, showing up at Petco Park knowing with almost near certainty he would be property of another club by the early afternoon.
"Getting here today was an odd feeling, knowing there was a clock ticking," said Denorfia, who was well aware that he could be and likely would be dealt.
After playing five seasons with the Padres, the veteran outfielder was traded to the Mariners for a pair of Minor League players in advance of the non-waiver Trade Deadline. The Padres acquired outfielder Abraham Almonte and right-handed pitcher Stephen Kohlscheen in the deal. Almonte will join the Padres on Friday. Kohlscheen will head to Triple-A El Paso.
Almonte hit .198 in 106 at-bats for the Mariners this season and .267 with six home runs and 31 RBIs in 277 at-bats with Triple-A Tacoma. The 25-year-old switch-hitter is considered a toolsy outfielder who has hit for power in the past and has shown that he can run and defend well.
"He's a good player, versatile, a switch-hitter who has performed well recently," said Padres assistant general manager A.J. Hinch. "He hasn't broken through at the big league level yet, but he gives [manager Bud Black] a versatile piece in the outfield."
Kohlscheen was a combined 3-1 with a 2.70 ERA between Double-A Jackson and Tacoma this season, with 55 strikeouts in 56 2/3 innings. The 25-year-old has a career 9.8 strikeouts-per-nine inning rate and is a strike-thrower who mostly relies on a fastball-slider combination.
Denorfia -- who is earning $2.25 million this season -- can be a free agent after the season. He'll meet the Mariners on Friday in Baltimore.
Denorfia had a chance to say goodbye to his teammates before the Padres game against the Cardinals. He also gave thanks to the organization for giving him a shot by signing him to a Minor League free-agent deal in December 2009.
"This is the place that gave me a shot," he said. "I was sort of at a crossroads. … Was I a 4A player or could I make something more of myself? I took it [opportunity] and ran with it."
The Padres have three outfielders under contract for 2015: Carlos Quentin, Seth Smith and Cameron Maybin.
Denorfia, who turned 34 on July 15, is a career .275/.335/.397 hitter over parts of nine seasons with the Reds, A's and Padres.
It was with the Padres that his career took off, though. He signed with the team in 2009 and posted an oWAR (offensive wins above replacement) of 5.7 over the next five seasons.
Denorfia, a right-handed hitter, had a .311/.378/.471 line against left-handed pitching with the Padres from 2010-13. His production against lefties has dipped this season (.253/.311/.326), but he is still considered a valuable bat off the bench or as a fourth outfielder.
"Everyone loves Denorfia, so it's bittersweet to trade him," Hinch said. "He's a fan favorite, a staff favorite, a teammate favorite. But we made the determination that he was likely to be traded. He fit on a lot of rosters."
This is the third trade Hinch has completed since June 18. He previously traded All-Star closer Huston Street to the Angels and third baseman Chase Headley to the Yankees last week.
Those trades saved the Padres about $6.5 million this season.
The Padres received a lot of inquiries on reliever Joaquin Benoit and starting pitcher Ian Kennedy, but decided to hold onto both.
"The names that are always popular are the names of the guys who are performing the best. Ian and Joaquin have both pitched extremely well, and we're happy to have them on our team," Hinch said. "A lot of players are asked about this time of year."
"The Trade Deadline has a lot of peaks and valleys. For me, personally, it's been an exhausting process to try to figure out what's in the best interest of the organization," Hinch said.
"I'm proud they gave me the responsibility to leading it. We've had a lot of contributions from people in baseball operations. For me, it's been a healthy process to bring back the right talent. We had a good process."
Corey Brock is a reporter for MLB.com. Keep track of @FollowThePadres on Twitter. This story was not subject to the approval of Major League Baseball or its clubs.