Mexican League matchup to follow Sunday's game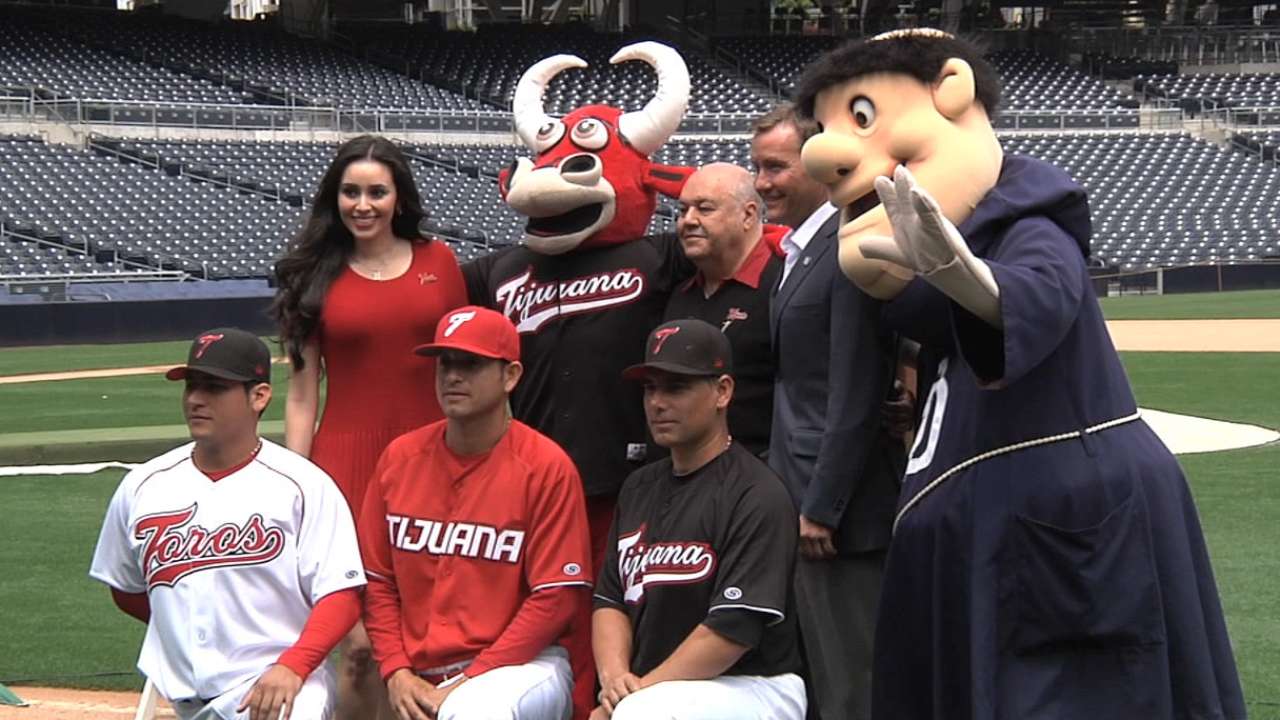 SAN DIEGO -- About 30 minutes after the conclusion of Sunday's game between the Padres and Braves, the Tijuana Toros and Mexico City Diablos Rojos will play a Mexican League game at Petco Park.
This isn't a novelty, but more potentially a precursor to the Padres' increased involvement in terms of their push into Baja California.
"It's one idea of bridging the gap between the Padres, San Diego and Baja," said Tom Seidler, who is part of the Padres' ownership group and has headed the effort to get this game played at Petco Park. "I know in [team president Mike Dee's] first stint here [1995-2002], he and the team were very successful with reaching into Mexico.
"They played a regular season game there, played an exhibition game, just connecting comprehensively with the community of Baja. There's a lot we can do. The franchise kind of lost its focus on Baja in recent years. The goal is to get it back to where it was."
Admittance to the game Sunday will be included with a ticket to that day's Padres game. The game will be the final game of a weekend series between the Toros and the Diablos Rojos, with the first two scheduled to be played Friday and Saturday at Estadio Gasmart in Tijuana, home of the Toros.
This marks the second time Petco Park has hosted a Mexican League regular-season game. On June 11, 2006, the Tijuana Potros defeated the Mexico City Diablos Rojos 4-0 following an afternoon Padres game against the Marlins.
The Diablos Rojos are owned by Alfredo Harp Helu, who was at Petco Park on Saturday.
The Padres nearly played an exhibition game in March in Tijuana against the Indians but couldn't get the game finalized in time. They may try again in 2015 and could possibly make a push to play a regular season game in Mexico again, like they did in 1996 when they became the first Major League team to play a regular season game in Mexico.
"I think the possibility is certainly there. We have to work it through with our players, the visiting team, the player's association, but we feel strong it's good for the game to grow in Mexico and feel we can lead that effort in Mexico," Seidler said. "Not only with our proximity to the border but with Alfredo Harp, who is widely respected throughout Mexico, being part of our ownership team."
Corey Brock is a reporter for MLB.com. Keep track of @FollowThePadres on Twitter. Will Laws is an associate reporter for MLB.com. This story was not subject to the approval of Major League Baseball or its clubs.