Liriano gets RBI in Major League debut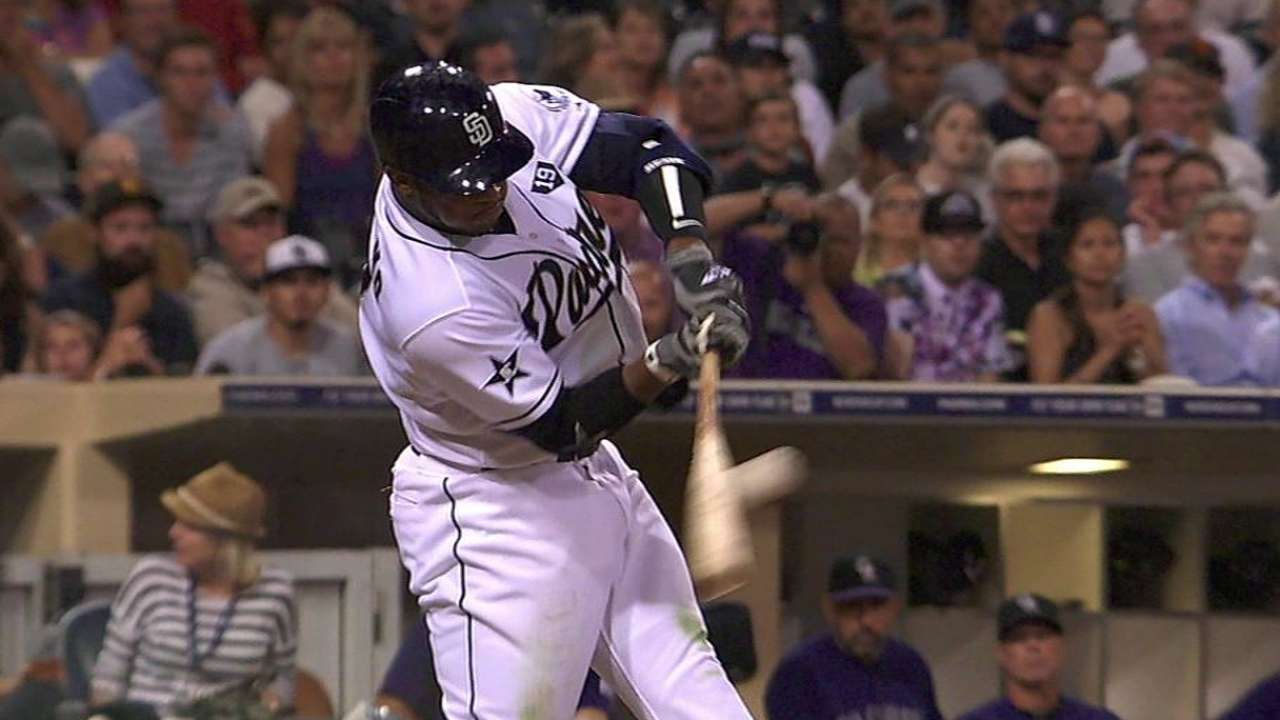 SAN DIEGO -- Wasting no time in slotting one of their top prospects into the lineup, the Padres greeted Rymer Liriano on Monday by batting him seventh and sending him to right field as a brief three-game homestand with the Rockies started.
"You're going to see a guy who plays the game hard," manager Bud Black said. "He might make a mistake or two in there, as with every young player, but he plays the game with passion."
Liriano went 0-for-2 with a sacrifice fly in the Padres' 4-3 win over the Rockies and was hit in the hand by a Jordan Lyles changeup in the fourth.
"I was looking to go the opposite way," Liriano said of his bases-loaded, sixth-inning fly to center that scored Yonder Alonso to pull the Padres to within 3-2. "It was really great to get an RBI for the team."
It's been quite a season already for Liriano, ranked as the Padres' No. 6 prospect, who missed all of last season while recovering from reconstructive elbow surgery. He started the summer at Double-A San Antonio, moved to Triple-A El Paso and was promoted after only 16 games with the Chihuahuas, where he was hitting .452 in 62 at-bats.
"I was surprised [at being promoted] after such a short time," Liriano said through interpreter Jose Valentin, the Padres' first-base coach.
His torrid pace at El Paso, he said, came because "it is a lot easier" to hit in Triple-A "because pitchers are more in the strike zone. They throw more strikes. You get better pitches to hit."
Still, .452 is eye-popping, even over a smaller sample size. To that end, Liriano also talked about enjoying the ballparks of the Pacific Coast League as well.
"This was a big year for him as far as his maturity and development as a player," said Black, who noted that the Padres' player development staff, including El Paso manager Pat Murphy, felt that Liriano, 23, grew up quite a bit this summer.
Black drew a comparison to former Dodgers outfielder Raul Mondesi given Liriano's physical skills, his body and the aggressive manner in which he plays.
As for Liriano, he said his goal as long as he is in San Diego is "to try to be a better player every day."
He also said that, as the first product of the Padres' Dominican Republic Academy to reach the Majors, he "feels proud to be the first guy and I want to thank the Padres for me being able to be at the academy and for their help, not only [for me] but for other Dominican players as well. I hope I can be an example."
Scott Miller is a contributor to MLB.com. This story was not subject to the approval of Major League Baseball or its clubs.