New GM Preller pays visit to Padres clubhouse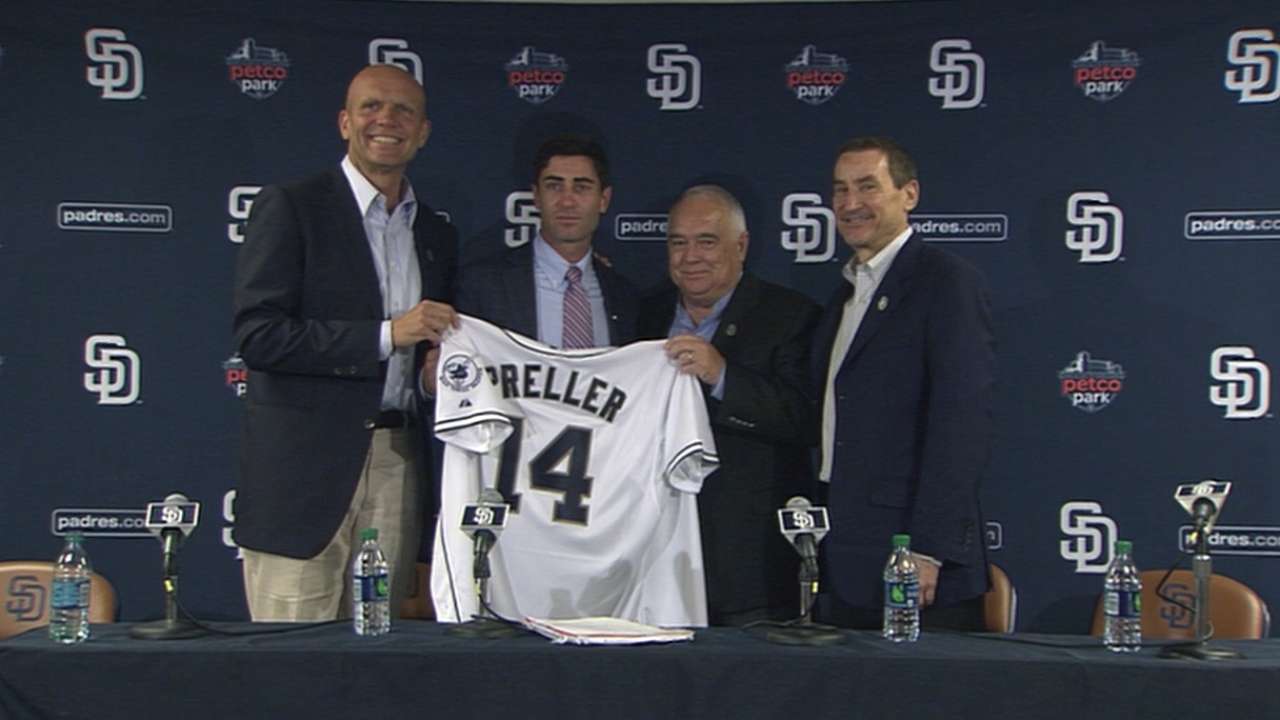 SAN DIEGO -- The Padres hosted a special guest inside their clubhouse before batting practice Monday when they returned to Petco Park to open a brief three-game homestand: new general manager A.J. Preller met and addressed them.
"I wanted to give them a sense of my personality and a quick sense of the role of a general manager in relation to the players and coaching staff," Preller said.
Preller was accompanied into the clubhouse by club president Mike Dee and owners Ron Fowler and Peter Seidler. They met with manager Bud Black and the coaching staff before addressing the players.
The talk appeared to energize the room and lock in some certainty for a team that has been playing without a full-time GM since June.
"They were talking about where they see the Padres going," starter Andrew Cashner said. "It's exciting to finally have somebody in charge making decisions. It will be exciting to see where he takes us.
"He was very energetic. It's an exciting day. Change is good."
Black said Preller was at Petco Park when the team arrived home from Pittsburgh on Sunday night and that the two spoke for a little while then before continuing the conversation Monday afternoon.
"It's been a whirlwind for him," Black said. "In time, we'll catch up. He loves to talk baseball. He wants to get to know our players and our staff."
It's been such a whirlwind for Preller that, since his hiring last Wednesday, he hasn't had time even to return to Dallas to collect some of his belongings. He joked that his car is parked on some city street and he's not even sure where. And tugging at his blue dress shirt, he noted that Monday was the second time around for that in the past couple of days.
Scott Miller is a contributor to MLB.com. This story was not subject to the approval of Major League Baseball or its clubs.