Wieland can hardly wait to get back in The Show
Right-hander making comeback from July 2012 Tommy John surgery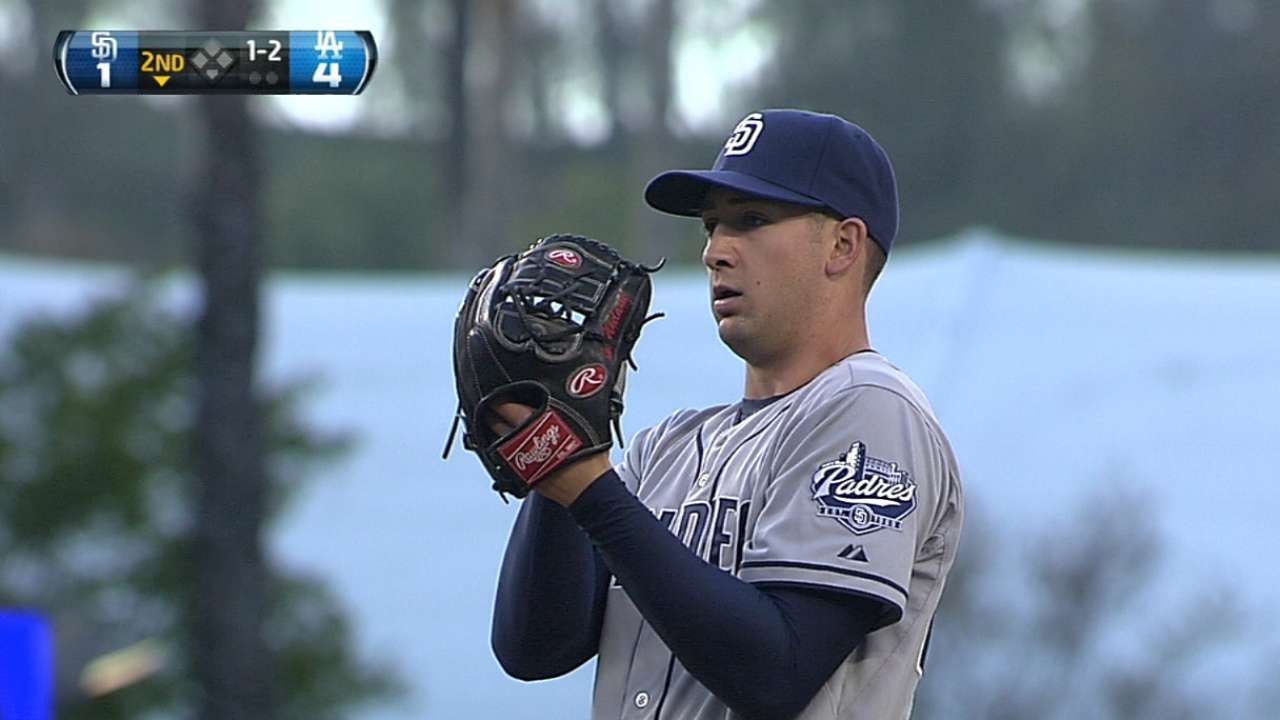 SAN DIEGO -- At some point in the near future, Joe Wieland is going to find himself back on a big league mound.
It's something the Padres pitcher -- ranked among the club's top prospects by MLB.com -- has thought a lot about and something he's had a lot of time to think about since undergoing Tommy John surgery on his right elbow on July 27, 2012.
"It's something I've been dreaming about the last two and a half years," Wieland said on Wednesday. "I don't necessarily think it's going to feel like my [Major League] debut, but I can tell you it's going to be about as close as you can get.
"Two and a half years is a long time. There were a lot of times I thought, especially this year, where I lost a lot of sleep thinking I might not make it back ever."
Wieland, 24, made his big league debut with the Padres on April 14, 2012. He went 0-4 with a 4.55 ERA in five starts, the last coming on May 6. Less than three months later, he needed Tommy John surgery.
His recovery went smooth -- very smooth -- until Spring Training, when he had repeated soreness in his triceps area and not the ligament. He eventually had arthroscopic surgery to eliminate the irritation in the elbow. Then, on the rehabilitation trail, Wieland got a big scare.
"Everything was great. Then in June, we were on track, my third bullpen, starting throwing curveballs. My effort level picked up. After the 'pen was over, the inside of my elbow was on fire. I really thought there was a chance I tore it [the ligament] again," Wieland said.
"There were three or four nights where I didn't sleep. I felt that before a couple of years ago, this was pretty similar. The doctor said it was probably the tissue getting used to throwing curveballs again. He said it was normal. Sure enough, in three or four days, it was gone. I haven't looked back since."
Wieland has thrown a total of 38 2/3 innings this season in three Minor League stops, posting a 3.03 ERA with 36 strikeouts. He could get a chance to start this month, but he will pitch in the Majors again, which is something he's been looking forward to for a while -- a long while.
Corey Brock is a reporter for MLB.com. Keep track of @FollowThePadres on Twitter. This story was not subject to the approval of Major League Baseball or its clubs.