Hudson's return has Padres hopeful for Luebke
Like D-backs pitcher, San Diego lefty coming back from second surgery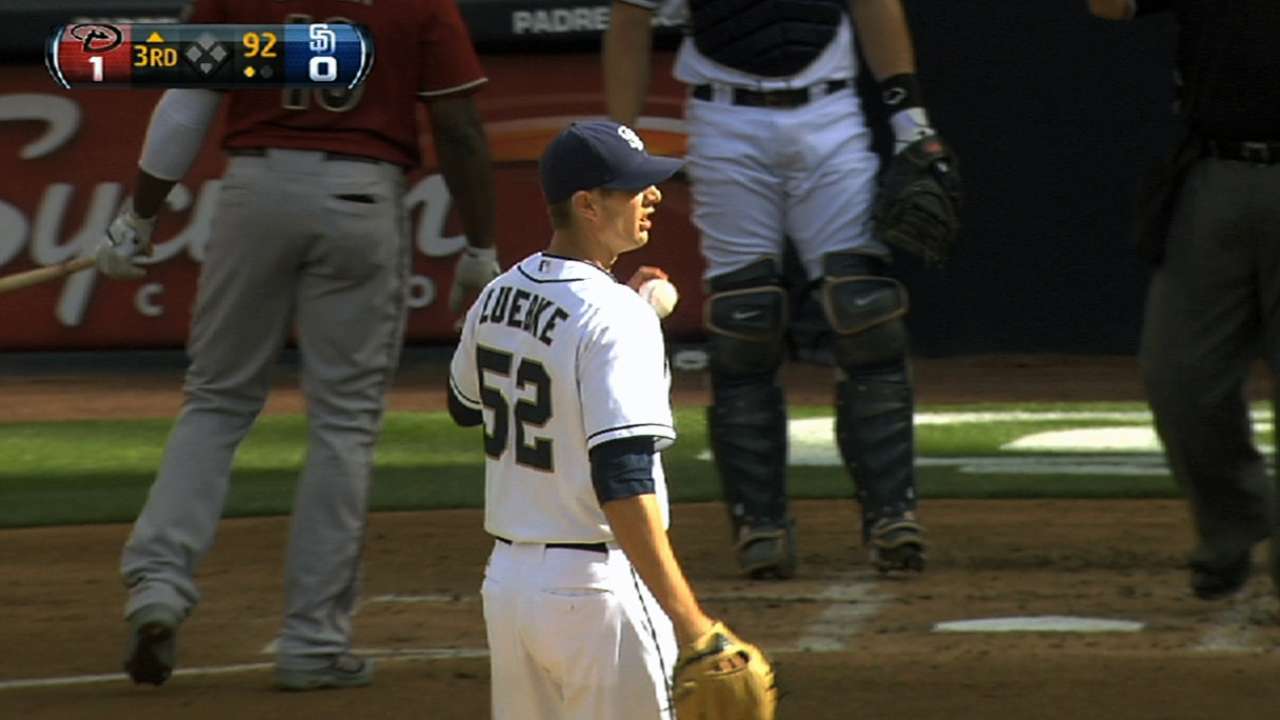 SAN DIEGO -- As the D-backs' Daniel Hudson threw his first pitches in a Major League game in 799 days Wednesday night, Padres manager Bud Black was thinking of Cory Luebke.
As Arizona's players mobbed Hudson in the dugout upon his completion of a 1-2-3 eighth inning, Black was thinking of what that moment will feel like when Luebke finally returns.
Like Hudson, Luebke, the lefty the Padres signed as a supplemental-round selection in the 2007 Draft (63rd overall), is two Tommy John ligament transfer surgeries into a serious comeback attempt.
"I've seen him pitch against us and pitch very well," Black said of Hudson. "The way he threw [Wednesday] night looked like, 'Hey, man, he's fully recovered and it's a great story.'"
Luebke made five starts for the Padres in 2012, going 3-1 with a 2.61 ERA, 23 strikeouts and only eight walks in 31 innings before experiencing elbow soreness. He underwent Tommy John surgery May 23, 2012, and was projected back this year.
However, after experiencing more soreness early this year, Luebke underwent a second Tommy John surgery Feb. 18.
"I know Cory rehabbed with Danny at one point," Black said. "My first thought was Cory, and when Cory comes back with us how it's going to make us feel. Because looking at the Diamondbacks' dugout after that inning, they were so happy for him."
Scott Miller is a contributor to MLB.com. This story was not subject to the approval of Major League Baseball or its clubs.